Is Nuggets point guard Chauncey Billups headed out of Denver? Posted by Ben Golliver.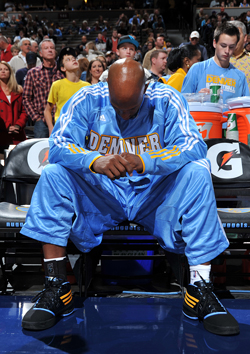 The Denver Nuggets have had an acceptable start to the 2010-2011 NBA season -- they're 6-5 so far -- after a summer of rumors and dysfunction. The problem for the Nuggets, as it is for every team in the Northwest Division: being "acceptable" simply isn't good enough. As of Tuesday night, the Nuggets were in 4th place out of 5 teams, trailing a sharp Utah
Jazz
, a young and hungry Oklahoma City
Thunder
and a hobbled but fighting Portland
Trail Blazers
, all of whom figure to be in the division chase for the long haul. The Nuggets have been dealing with a bunch of frontcourt injury issues and, of course, the ongoing questions about forward
Carmelo Anthony
, who seems destined to head out of town sooner or later. Anthony's departure would leave the Nuggets without an identity, meaning it would be time for a full-scale rebuild as soon as possible. Given that back drop, it's no surprise that veteran point guard Chauncey Billups, who is being pushed for minutes by promising backup
Ty Lawson
, is finding his name pop up in super early trade deadline chatter.
NBA.com raised the possibility on Monday
.
If Denver decides to move Anthony, it would probably look to move the 34-year-old Billups as well. It is certainly conceivable that the Nuggets could take it all the way down, blow up everything, save some money for a couple of years and start rebuilding.
Newsday
, meanwhile,
notes that Billups' situation is "tenuous"
but that he isn't yet on the trading block. He should be. His marginal value compared to Lawson isn't substantial, and the Nuggets are simply treading water and paying a huge price for his services when they don't appear to be legitimate championship contenders. His external value around the league remains strong, though, thanks to a solid reputation. Sure, Billups is on the downslope of his career, but the tank isn't empty and he is a proven champion. Billups' value will only drop if and when Anthony is moved, and his skillset is attractive to teams that are looking to win-now and teams that need a solid veteran to guide the development of younger players. The tricky thing with moving Billups is that it would be a clear sign to potential Anthony trade partners that Denver is really to blow things up completely, which could impact the package the Nuggets are able to receive in return. Therefore, the Nuggets are in a delicate chicken-or-egg dilemma with Billups and Anthony. Unless the Nuggets get red hot prior to the deadline, though, the arguments for shipping Billups off to the highest bidder, even at a discount, remain far stronger than the arguments for keeping him around. It would be hard for Denver to say goodbye to a local product, but it would be even harder to watch Billups guide a Carmelo-less Nuggets team into the lottery next season.