Portland Trail Blazers center Greg Oden will undergo his second microfracture knee surgery, and Portland's trainer says neither was caused by a specific incident. Posted by Ben Golliver.
If there's a maddening element to the tragic story of Portland Trail Blazers center Greg Oden, the 2007 NBA draft No. 1 overall pick, a giant man among giant men, it's that the two injuries that could prove to be the undoing of his NBA career both happened amid uncertain circumstances.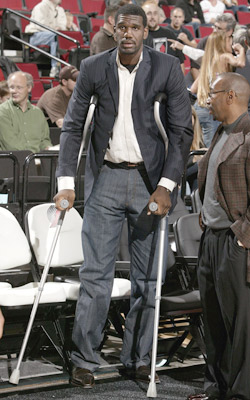 During the summer of 2007, shortly after being drafted, Oden underwent microfracture surgery on his right knee. No official, specific incident was determined to have caused his knee to need that surgery, which is a major procedure. Wednesday night, the Blazers announced that Oden would undergo a microfracture surgery on his left knee, but again could not pinpoint a specific incident or impact which necessitated the surgery.
Speaking in front of a press conference full of reporters in the Rose Garden media room, Blazers trainer Jay Jensen did his best to hold back tears as he described the circumstances leading up to the decision to have Oden undergo microfracture surgery on Friday. After clarifying that this microfracture injury will repair an "articular cartilage defect" that is separate from the fractured left patella Oden suffered last December, in a game against the Houston
Rockets
, Jensen described the days and weeks prior to the decision to pursue surgery.
Until quite recently, Jensen said, everything had been progressing relatively smoothly. "Two weeks ago today, Greg was seen by Dr. Roberts and he had a normal exam. He had no fluid in his knee at all. He had a normal exam. We were solely concentrated on continuing to get him stronger and increasing his confidence, his ability to play on the court."
Jensen noted that Oden had been "experiencing some discomfort based on the hardware that was in his patella," and that Oden travelled with the Blazers down to Los Angeles for a Sunday night date with the
Lakers
. Before the game, Jensen told CBSSports.com that Oden went through a normal pre-game workout with fellow rehabbing center
Joel Przybilla
. "It was a typical workout where, before the game, they go out, Joel and Greg, go out and do particular routine of low post moves, dunks, setting screens, rebounding drills, it was one that was hard. I remember [Portland's team doctor] Dr. Roberts calling me, because it was on the air on our broadcast, telling me that [Oden] looked really good, explosive. He thought his workout was really good. Greg didn't really complain about it, that anything that was unusual."
Jensen continued: "It was nothing unusual that happened after his workout that he mentioned to me. He didn't mention anything to me until we were here in Portland for [former Blazers assistant coach Maurice Lucas's] funeral on Monday."
From there, Oden experienced "moderate swelling" which led Portland's doctors to drain his knee and then return to Los Angeles for a consultation with orthopedic surgeon Dr. Neal ElAttrache. That examination did not raise any concerns, but shortly after the examination Oden began to experience swelling once again.
"I looked at his knee and it was significantly increased," Jensen said."It was at that time that I mentioned it to Dr. Roberts and he agreed that it was time to get an MRI on Greg's knee." That MRI revealed the defect in Oden's articular cartilage. "Like a nine iron taking a divot out of the grass, it's a hole in that part of the cartilage," Jensen said, underscoring the severity.
That series of events – the timing of the swelling and the discomfort -- led Jensen to conclude, in hindsight, that the workout in Los Angeles was likely he "trigger" for the defect that will necessitate the microfracture surgery. "The way that things progressed, I think that there was certainly something in his workout in L.A. that triggered this. I don't know what it was specifically."
Jensen said that the circumstances around the two microfracture situations were eerily similar. "It's the same part of the bone that was damaged in his right knee [in 2007]. Even to the point where his right knee, we didn't know how that happened either when that happened. It was an insidious kind of onset with the swelling. He didn't know how he did it. He woke up one day and there was a moderate amount of effusion of swelling on his knee."
The two incidents together – and the long road in between -- left Jensen openly emotional and looking back to the 2007 pre-draft process for an explanation that will never be there. "We did a series of two MRIs on both of his knees before the draft and there was nothing. To quote somebody, they were 'pristine' MRIs for his knees. Both instances they were found after a normal MRI was done."
Pristine has given way to cataclysmic, and the force of the latest MRI struck Jensen, Roberts and Oden with maximum force. "We sat there and it was like we got kicked in the stomach. We all felt like we had just been told that somebody close to us had died. It felt that way. We didn't know what to say. We were shocked."
Oden, his doctors and trainers, the Trail Blazers organization and the city of Portland are all left shell-shocked, with no clear explanation for why its franchise center has now suffered two knee injuries that led to major surgeries without a crystal clear cause-and-effect.
Oden's future hangs in the balance, and no one --no one -- knows why.