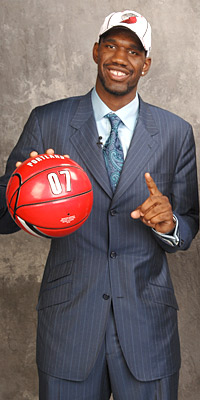 Posted by Royce Young
A lot of things were affected by
Greg Oden
's surgery that will end his season. Not only his career and the Blazers' season, but also his financial situation. As one of the many from the draft class of 2007 that didn't receive an extension, Oden was looking at just becoming a restricted free agent.
That's somewhat unique for a No. 1 overall pick, but as a player that's dealt with injuries, it really was going to be an opportunity for Oden to possibly show people how much he's worth.
But with the surgery, it really put all that in jeopardy. With so much uncertainty surrounding Oden, it led many to wonder if the Blazers would even extend a qualifying offer to Oden to make him a restricted free agent.
But Trail Blazer president Larry Miller says that he would like to.
"If Greg Oden plays up to his potential he is worth that," Miller said of the $8.8 million qualifying offer. "We will see where (rehabilitation) things are at that level. But at this point, I don't see us not giving the offer if Greg is doing the things we need to see him doing to get back on the court.

That's how I feel. If he is doing those things, we want to keep Greg around. I don't feel like I'm ready to give up on Greg Oden. I don't think anybody in our organization is ready."

In order for Oden to even become a restricted free agent, the Blazers must extend him an $8.8 million qualifying offer. Essentially that means that if nobody offers Oden a contract, he will automatically accept the $8.8 million deal. But if the Blazers don't extend that qualifying offer, Oden is unrestricted.
It's a pretty bold statement to make, but it really shows the faith the Blazer organization has in Oden. They want the opportunity to keep him and they aren't giving up on him. And why would they? Yes, Oden has had some insanely difficult years, but he's just 22 and can absolutely recover and still have a productive NBA career.