Former NBA all star Allen Iverson has taken his game to Turkey, but American fans can watch him play on NBA TV. Posted by Ben Golliver.
Former NBA all star guard Allen Iverson has taken his talents to Besitkas Cola Turka, a Turkish professional basketball team, but that doesn't mean fans stateside can't follow The Answer's journey. NBA TV announced on Friday that it will televise one of Iverson's upcoming games on Sunday.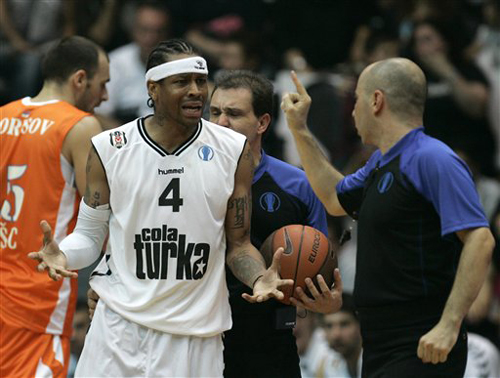 Here are all the relevant details from the network's press release.
NBA TV announced today that it will televise Sunday's game featuring 11-time NBA All-Star Allen Iverson and his Turkish team Besiktas Cola Turka of the Beko Turkish Basketball League against the defending TBL champion Fenerbahce Ulker from Istanbul, Turkey. This TBL game will air on NBA TV beginning at 3:30 p.m. (ET) with Rick Kamla and Chris Webber calling the contest.
Iverson, who spent 14 years in the NBA with the Philadelphia 76ers, Denver Nuggets, Detroit Pistons, and Memphis Grizzlies, scored 15 points in his debut with Besiktas during Eurocup competition on Nov. 16, when they fell 94-91 to KK Hemofarm Stada in Istanbul.
I wouldn't be surprised if this game does decent ratings, given the gawking factor and Iverson's popularity among a niche die-hard. And you've gotta love that C-Webb is on the call. It's time to start brushing up on those pronunciations RIGHT NOW. To watch clips from Iverson's Besiktas debut, a 15 point effort in a losing cause in a European Cup against Sebian team Hemofarm Stada,
click here
.