Miami Heat power forward Udonis Haslem suffered a foot injury on Saturday night. Posted by Ben Golliver.
Update (9:48 p.m.)
:
ESPN.com reports
that Haslem "tore a ligament in his left foot," that he is out for an indefinite period of time and that surgery is on the table, but that a decision will wait until after further tests are conducted.
He will see a specialist on Monday, and surgery -- which could keep him out months instead of weeks -- remains an option. The Heat said they expect to have more information on Monday.
A Yahoo! report
strikes an even graver tone.
The torn ligament in the left foot of Miami Heat forward Udonis Haslem will at least keep him out until the All-Star break in February – and possibly for a significant portion of the regular season, a league source told Yahoo! Sports on Sunday night.
Original Post:
Miami Heat co-captain and burly power forward Udonis Haslem suffered a foot injury and was helped off the court during Miami's Saturday night loss to the Memphis
Grizzlies
.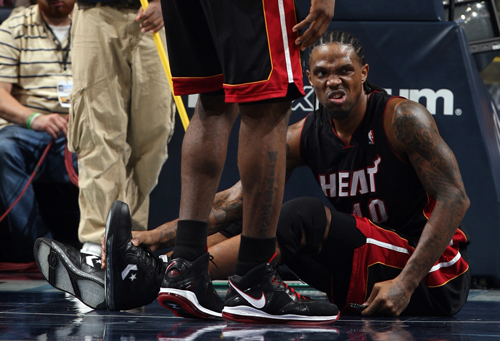 The Sun-Sentinel reports
that Haslem's initial diagnosis was a "sprained left foot" and that X-rays taken Saturday came back negative. However, the paper also quotes Heat star
LeBron James
expressing some serious concern.
"What I've heard is, I mean I haven't heard from any docs, but he dislocated his second toe and he tore a few ligaments in his foot somewhere," forward LeBron James said. "I don't know how long he'll be out, but any time one of your teammates goes out, it hurts.
"It's huge. He's like our heart of our team. He's our power. He's our pride. He brings everything every night."
Of course, James is not a doctor, but his concern was shared by Heat forward
Chris Bosh
, who added that Haslem's exit from the court was "not a good sign." This is cruel news for Haslem, who
returned to the Heat at a steep discount
. His absence will mean other veteran big men like
Zydrunas Ilgauskas
,
Juwan Howard
and
Joel Anthony
will need to log additional minutes. It also applies additional pressure on Bosh to pick up his per-game rebounding numbers. This post will update with any additional injury updates that are made available later today.