Former NBA all star Allen Iverson is playing professional basketball in Turkey and is reportedly "broke." Posted by Ben Golliver.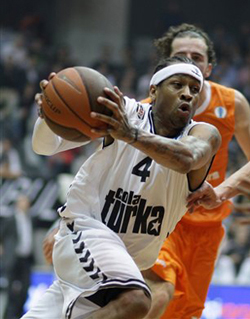 We've been following former NBA all star Allen Iverson's road to Turkish professional basketball team Besiktas with interest, and we're not allowed.
Philly.com sent a writer to Istanbul
to check up on Iverson, whose most recent game was
televised on NBA TV Sunday
. The report is fascinating: Iverson is not even close to a household name in Turkey, where interest in soccer far exceeds interest in basketball. Worse, some digging uncovered financial troubles for Iverson are reportedly his motivation for playing overseas.
"It's not a problem, it's not a problem - money," Iverson said at an Oct. 29 news conference in New York. "Obviously if it was about money, I would jump out there and say, 'You want me to come off the bench? How much money are you paying?' It wouldn't be a big deal. It's not about money or anything like that."
A member of one NBA front office, speaking on the condition of anonymity because of the subject matter, said that prior to last season, a member of Iverson's family called to inquire about a contract for Iverson, explaining that Iverson owed that person money and would be unable to pay without a contract. A similar source explained that Iverson is broke, plain and simple. Over his NBA career, including his lucrative deal with Reebok, Iverson made more than $100 million.
Iverson signed a multi-year contract with Besiktas for millions of dollars. Hopefully that money will, in a roundabout way, provide a happy ending for one of the NBA's most popular players in recent years.