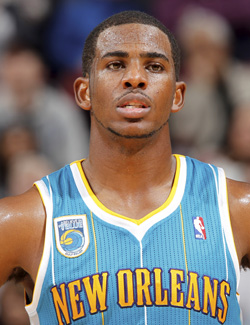 Hornets guard feeling better about things with team thriving.
Posted by Matt Moore

Seems like only yesterday that
Chris Paul
was
unhappy with management and working to extricate himself from New Orleans
in order to make sure his prime isn't wasted. Now, with the Hornets 11-1 and the toast of the NBA, Paul's feeling a lot better about things. As he told NBA FanHouse:
"Yeah, I'm happy," he said with a smile after a gritty 75-71 win in which he shot just 2 of 12 from the field for four points but had 14 assists despite the Hornets shooting just 32.2 percent. "I'm happy. We're good to go."
Most interestingly, FanHouse reports that part of Paul's newfound contentment is due to the near-sale of the Hornets to Gary Chouest. Apparently Paul was concerned about current owner George Shinn's commitment to spending for a winner. Helping things has been Dell Demps' shrewd maneuvering (
depending on who you ask
), and Monty Williams' coaching, which Paul raves about.
The question is if Paul will still feel this way if the gap between the Hornets and
Lakers
is revealed to be as wide as it's considered to be. If Paul can win but not win a championship, is that enough for him? Likewise, best buddy
LeBron James
' current struggles in Miami have to put Paul a little off on the idea of ditching his team for a super-team-up in New York or elsewhere. Paul was talked about as part of the toast at
Carmelo Anthony
's wedding reception this summer. But Paul's under contract, has publicly supported New Orleans, and now that the Hornets are winning, you have to wonder if all that's behind him.
Then again, check back in February and things may be dramatically different, even if he does have good buddy
Jarrett Jack
to hang out with (at a hefty price for a backup). But for now, Paul's happy to be winning, happy to be in New Orleans, and happy with how things are going. Things have changed awful fast. Hopefully for Hornets fans, they won't change again that quick.