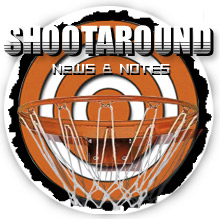 Vince Carter comes up lame, the Miami Heat are struggling, a few New York Knicks analyzed, Steve Francis heads abroad, and a whole lot more. Posted by Ben Golliver.
Orlando Magic wing Vince Carter went down during Monday night's game against the San Antonio Spurs and told reporters after the game that he he felt "sharp pain go through my knee, under the kneecap." That doesn't sound good.
Here's the stat of the night for you from Miami's surprising double-digit home loss to the Indiana Pacers: "The Heat bench played a total of 74 minutes on Monday night and scored a whopping 4 points. The last time they did that? Nearly a decade ago, when the Heat bench mustered only two points in a January 2001 loss against -- guess who -- the Indiana Pacers."
Kevin Pelton shows some love for New York Knicks rookie Landry Fields. "This year's standout has been New York Knicks guard Landry Fields, who has excelled as a starter from opening night. Fields' polished game was no secret among Pac-10 fans, but he got little national hype because he played for an undermanned Stanford team that finished tied for eighth in the conference. Fields has exceeded even his collegiate performance, especially on the glass. He's grabbing 20.6 percent of available defensive rebounds, which is phenomenal for a shooting guard (the average for the position is 11.0 percent) and nearly identical to his defensive rebound percentage as a senior in college."
Pacers blog IndyCornrows.com isn't nearly as excited about the win over the Miami Heat as you might expect. "Jim O'Brien urged that they caught Miami on an off night, saying it could be fool's gold. While the possibility exists, O'Brien will always speak cautiously. O'Brien sips his glass half empty to not allow his team to gain complacency, it was more than fool's gold: it was a stout defensive effort by the Pacers. Words have been expressed more often to give credence to the team's defensive efforts, but tonight featured a culmination that resulted in not only a solid road victory, but a definitive win, led by a trio of much maligned Pacer members."
Isiah Thomas is at it again, talking about his sexual harassment case and overdose on sleeping medication.
These NBA labor negotiations sound like they are off to a great start. Not. Union chief Billy Hunter says a lockout next season is 99% likely to occur and goes on to say everything is working as it's supposed to, with the NBA generating profits at a solid clip. "Our contention is that the system that was put in place delivered everything it was supposed to deliver," Hunter said, referring to the initial framework adopted in 1999. "The players never got a cent more than they were supposed to get. And ironically, if you review the press clippings from that era, you will see that the deals that were struck were lauded by the N.B.A. as having been major successes for the owners. So why now at this stage are we now saying that the system doesn't work and it's got to be overhauled?"