Miami Heat forward LeBron James tells reports that he's "not having fun right now." Posted by Ben Golliver.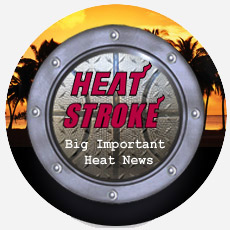 Tucked away at the very bottom of
the wire report
for the Miami Heat's 93-77 loss to the Indiana
Pacers
Monday night was a six-word quote from Heat star forward LeBron James that said it all.
"We're not having fun right now," James said.
Miami now stands at 8-6. Heat haters will surely cackle at the ugly loss and corresponding disappointment from James, as it reads like a comeuppance of the highest order for a player long known for dancing and goofing off before and during games.
This picture
, courtesy of HotHotHoops.com, is worth a million words to those preying on Miami's downfall. James' comment is reflective of his team's overall play; you can
watch some really ineffective Heat defense broken down at length on NBAPlaybook.com
. The video doesn't lie: there's a lack of camaraderie, a lack of going the extra mile, a lack of pinpoint mental sharpness that only develops when entire teams are motivated together. The Heat are missing all of those things right now, and it doesn't feel like a cop out to blame this on the injuries. With co-captain
Udonis Haslem
going down in such a major fashion
and
Mike Miller
still a ways away from making his return, it's very easily for the rest of the Heat players, including its stars, to slip just a touch mentally, thinking about what the future will look like when the team is back together healthy rather than focusing on the given task at hand. That's a big problem for Miami because they have such a prominent bullseye placed upon them by the rest of the teams in the league. Aside from knocking off the Los Angeles
Lakers
, there's no better way to generate excitement in your team than by derailing the Miami Championship Express like the Pacers did on Monday. After the loss, Heat coach Erik Spoelstra looked and sounded just a touch desperate. He, clearly, isn't having much fun either.
"Sometimes you have four or five games where nothing seems to go right."
An accurate statement, given the circumstances. The question for Miami: is that acceptable? Is their recent defense acceptable? Most importantly, is a no-fun-having LeBron James acceptable? Open questions all, but something needs to change, because Haslem isn't returning any time soon and the race for the Southeast Division crown is on in full force, with the Orlando
Magic
sitting pretty at 9-4. The Heat and Magic face off on Wednesday night in Orlando. Surely the Magic are looking to return the favor for the walloping Miami put on them back in October, and revenge for Orlando wouldn't be much fun for LeBron James, either.