The Atlanta Hawks have reportedly "tuned out" head coach Larry Drew. Posted by Ben Golliver.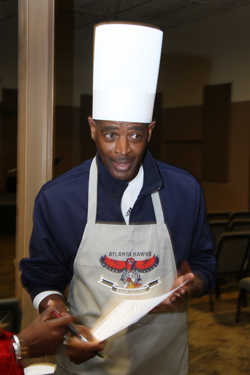 Following the team's demoralizing 99-76 loss to the Boston
Celtics
on Monday night, an
Atlanta Journal-Constitution column
raises some red flags on the Atlanta Hawks very early into their 2010-2011 season.
It took the Hawks six years to stop listening to Mike Woodson. It has taken one month for them to tune out his successor. To say the effort the Hawks gave against the Boston Celtics on Monday night was amateurish is to discredit the concept of amateurism and to distort the meaning of "effort."
Said Larry Drew, the head coach: "Very embarrassing. Very, very embarrassing. Very embarrassing. If I had to sum it up in one word: Embarrassing."
As
Pro Basketball Talk notes
, Drew also raised some interesting questions about his players in
a video of post-game statements uploaded by Nubyjas Wilborn
.
"I told the guys I don't know what you're doing the night before we play. I don't know what you're doing away from the floor. I don't know what it is, but something is going on that is not allowing us to play this game with an energy and a passion we should be playing with."
Those are tough words, and Drew is in a tough spot. becoming a first-time NBA head coach is never easy, not even for a long-time, well-respected assistant coach and former player like Drew. Many head coaches would prefer to get their start with a developing team or a rebuilding youth movement, where fans expectations are lessened and player motivation is high, as young cats look to earn their big-dollar post-rookie scale contracts. For Drew and the Hawks, though, it could be worse. Despite the loss, they sit at 8-6, above average and in the playoff picture, where they've camped out for the last two or three years. It's unlikely the "embarrassment" will continue indefinitely: there's simply too much talent assembled. The issue in Atlanta is bigger seems bigger than Drew and his ability to motivate and/or captivate the troops in the short term, however. It's never clear whether this franchise is coming or going. After three consecutive playoff runs, the last of which ended in particularly ugly fashion to the Orlando
Magic
, the Hawks managed to lock up their key pieces --
Joe Johnson
and
Al Horford
-- to contract extensions. But they also failed to add anyone of note. With no new blood, and virtually all of its starting lineup commanding 8-figure annual salaries (now or next year), it's no great surprise there might be early season motivation issues, especially against a more talented and tested opponent. The Hawks of last spring were booed off their home court because they were resigned to their losing fate. Those Hawks are these Hawks. Nothing fundamentally has changed. There is no quick fix here as Atlanta treaded water while Boston, Orlando and the Miami
Heat
all improved over the summer. I suspect everyone in Atlanta's front office and coaching staff understands that situation well and, like their players last spring, are equally resigned to their fate. Barring an unlikely lineup-transforming trade, this season seems inevitably headed the way of the last three.