Los Angeles Lakers head coach Phil Jackson takes some shots at the Miami Heat and the future of coach Erik Spoelstra. Posted by Ben Golliver.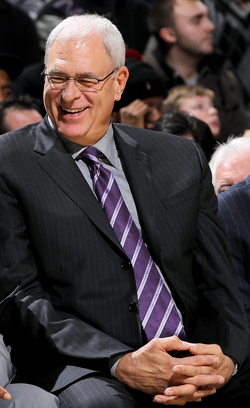 Say this for Los Angeles Lakers legendary coach Phil Jackson: if he ever decided to leave the bench, he would be an incredible blogger. Jackson has always known which buttons to push and when to push them, and the morning after a surprising, embarrassing double-digit Miami Heat home loss to the Indiana
Pacers
, Jackson took to the radio airwaves in Chicago to needle the Heat and embattled coach Erik Spoelstra.
ESPNLA.com transcribes some of Jackson's comments
. First, he opines on Miami's 8-6 record, far short of expectations, is the result of the team "coming together with some real talented guys, and not having a base." Jackson then went on to speculate that Miami's summer signings --
LeBron James
and
Chris Bosh
-- may call on Heat president Pat Riley, a former championship NBA coach, to take over the reins from Erik Spoelstra, a talented but young Riley coaching disciple.
"The scenario that sits kind of behind the scene, is that eventually these guys that were recruited -- Bosh and James -- by Pat Riley and Mickey Arrison, the owner, are going to come in and say, 'We feel you [Riley] can do a better job coaching the team. We came here on the hopes that this would work,' and whatever, I don't know," Jackson said. "That's kind of my take on it, is that eventually if things don't straighten out here soon, it could be the Van Gundy thing all over again."
Back in 2005-2006, of course, Riley pulled a similar stunt, taking over for coach Stan Van Gundy roughly a quarter of the way through a season that ended with an NBA title. From the moment James and Bosh joined
Dwyane Wade
, the whispers that Spoelstra was a dead man walking began. As with all of his public comments about competitors, this shot is a public mental test for Riley, Spoelstra, James and company. It will be very interesting to see how they respond, and whether anyone takes the bait.