Posted by Matt Moore
It won't be the first time people alledge that
Kobe Bryant
has a heart two sizes too small, but it's the first time he'll look the part. Leaked yesterday were Kobe Bryant's "Grinch edition" shoes which he'll be wearing on Christmas Day against the visiting Miami
Heat
. They are ... ahem ... Grinch-like: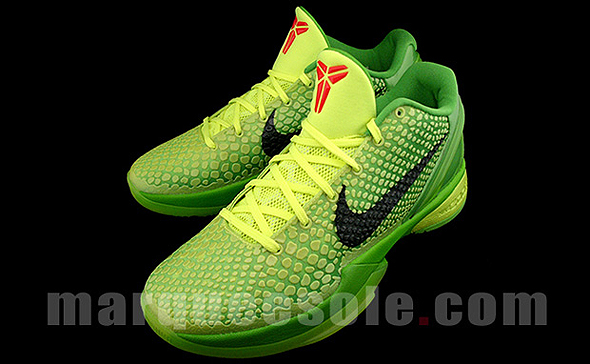 So that would make LeBron little Cindy Lou Who, that's who.
Can we go ahead and get this out of the way? The
Lakers
are going to kill the Heat on Christmas. Even if the Heat get it together over the next month, there's simply no way they'll be able to deal with the Lakers' size, cohesiveness and overall talent. The Heat's Big 3 are better than the Lakers' Big 3 (as in, take Kobe, Pau, and any of their other five solid star players), but they also haven't learned to play together and the Lakers' Big 2 seem to be a might bit better.
Stealing this win for LA, in LA, is going to be easier than taking candy from ... you know what? Nevermind.
(HT:
Sole Collector
via
The Basketball Jones
)