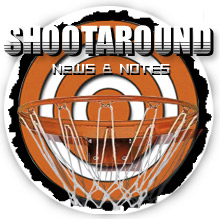 Posted by Royce Young
Shaq to WEEI: "This is a great team. The best team I've been on. They've got a lot of weapons on this team, so on any given night anybody can be the leading scorer. The team's very unselfish, so the shots are going to drop off and they easily could have shot them and did that but…great game. Great team effort. And now we've just got to keep it going."
And the Clips won another game, making that two straight. ClipperBlog: "Perhaps the Clippers players are beginning to realize that they have a rare talent in their midst, an unstoppable force that can leave opponents demoralized and turn around the fortunes of a franchise, its history and curse be damned. Whether that story will be written in the coming months and years remain to be seen. But the first draft of that narrative is beginning to look promising."
Sactown Royalty: "We criticize, of course, but does anyone see an easy fix? Re-inserting Beno Udrih for Head would have left Gordon with 40. Moving DeMarcus Cousins into the starting five for Dalembert would have meant Cousins or Landry (who had some feisty back-and-forth with Griffin) would have been in early foul trouble. Putting Omri Casspi into the game between Evans and Greene probably wouldn't have helped force Evans to be more aggressive; the team's ubiquitous dependence on one-on-one play would have been re-emphasized. There are no answers until these players get better."
Hamed Haddadi has been charged with assaulting his girlfriend. That's not good.
Darren Rovell on LeBron's return to Cleveland: "They joked that when LeBron James returned, they'd make him play in an empty arena. In reality, former fans of the star who left them for Miami have paid top dollar to witness his return to Cleveland next week. It actually might be the most expensive regular season ticket in Cavaliers history. Fans are paying an average of $234 per seat on the secondary market for the Dec. 2 game, according to StubHub That's the highest average price for a non-playoff game for as far back as StubHub's data goes. The previous high was January 2010 when the Lakers came to play in Cleveland. The average price for that game was $202, StubHub's Joellen Ferrer said."