Toronto Raptors forward Reggie Evans fractured his right foot and is out indefinitely. Posted by Ben Golliver.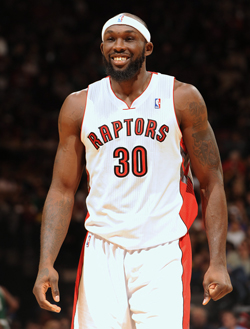 In addition to being
a deep thinker on gender issues
, Toronto Raptors forward Reggie Evans is one of the NBA's most incredible single-tool players. Evans rebounds, and nothing more. As of Sunday, Evans was No. 3 in the league with 12.6 rebounds per game, and he was
tops for rebounds per 48 minutes
, with 21.7. Evans does the dirty work and he does it without requiring touches. On a team as soft as the Raptors, he is worth his weight in gold. Unfortunately for Toronto, Evans fractured his right foot during a Friday night 110-101 loss to the Boston
Celtics
, according to the
team's television broadcaster
.
The Toronto Star reports
that the team and coach Jay Triano have not placed a timeline on Evans' recovery from the broken foot, but it's obviously expected to be lengthy.
"It's broken, a fracture, a break, I don't know," a downcast Triano said. "X-rays were positive, I have no idea of timeline or anything else."
Evans, who averages nearly 12 rebounds a night and is by far Toronto's most effective player on the boards, was injured with about six minutes left in the third quarter and hobbled to the bench. He had the x-rays in the arena and got the bad news there, departing for the team bus on crutches before the post-game media session began. He missed 50 games last season with an injury to his other foot but was among Toronto's best players before Friday's mishap."He went up for a rebound and I guess he came down funny on it and felt something and knew he was in trouble," said Triano.
The Raptors can't replace Evans' rebounding, and will likely look to fill his minutes using a platoon of foul-prone
Amir Johnson
, over-the-hill
Peja Stojakovic
, and untested
Joey Dorsey
. Rookie power forward
Ed Davis
has been recovering from an injury earlier in the year and was
recently sent down to the D-League
and could be another option down the line. However they try to plug it, the hole on the boards won't make for a pretty sight as the Raptors, with Evans, were in the middle of the pack in the Atlantic Division at 6-10. For his part, the tough-minded Evans took the news well, addressing Raptors fans and the city of Toronto on
his Twitter account
Friday night. "T Dot let's not feel sorry for me just minor setbacks for a major comeback," Evans wrote. "Let's Get Itttttttttttttttttt."