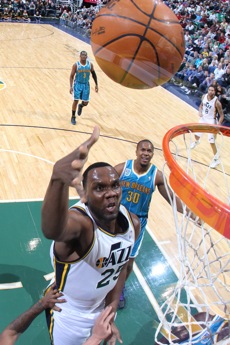 Posted by Royce Young
It's always great to see a talented player get to play on a team that deserves his ability. We saw it with
Kevin Garnett
finally getting out of Minnesota (where he nearly carried them over the top) to go to Boston to play on a championship team.
And now another former Celtic who moved to Minnesota in that Garnett deal, is playing for a team where he feels his talent and ability actually means something other than rebuilding.
Al Jefferson
, after the
Jazz
beat the
Lakers
in a hard fought, 112-106 win, was a
but emotional following the game.
"I haven't beaten the Lakers in probably six years, since I left Boston, and I haven't been in a playoff game in six years and it felt like a playoff game. Every possession counted. Kobe Bryant being who he is, and we were down, we fought back, we didn't give up. We won against all odds. It was just amazing, man. I'm overwhelmed. It's never been like this before, and to be a part of this. It just meant a lot to me."

That quote, is awesome. And we're just about 20 games into the season. He may cry like I did at the end of
Marley and Me
when the Jazz take the floor for their first playoff game in front of that awesome, crazy Salt Lake home crowd.
I love how much this means to Jefferson. It makes you feel for the guys out there fighting away on bad teams right now (hello
Andre Iguodala
). Hopefully either their group turns it around or they can find a home where they can find some success.
The Jazz are 12-5 and sitting atop the very rough and tumble Northwest Division. Jefferson hasn't necessarily been terrific, but he's averaging 16.9 points and 8.8 rebounds a game. But those things don't matter to him. The fact he's playing for a winner is all that does.