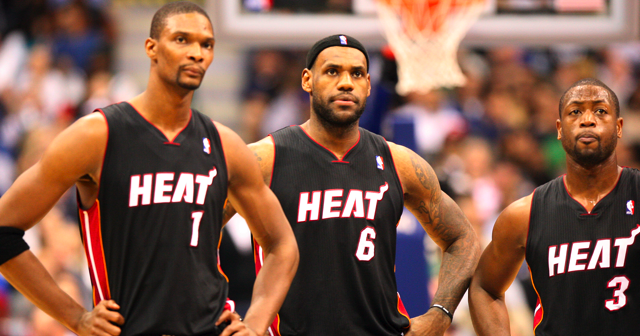 Posted by Royce Young
Remember back in September when people were talking about 72 wins and stuff with the Miami
Heat
? Well, they better start tightening things up because they only get two more losses if that's going to happen.
And there are just 65 games left. Going 63-2 the rest of the way shouldn't be a problem, right?
The Heat dropped to 9-8 with a loss in Dallas to the
Mavericks
, 106-95.
Chris Bosh
,
LeBron James
and
Dwyane Wade
combined to score 67 points, following the blueprint exactly. Problem for the Heat was the rest of the team added just 28 points. Even worse, the other two starters added just six, all coming from
Carlos Arroyo
.
Following the game, which makes losses in four of their last five outings with the only win being over the lowly Sixers, the Heat held a players only meeting
that reportedly lasted over 30 minutes.
Oh to be a fly on the wall in that locker room. I imagine it was a lot of LeBron yelling about stuff, Dwyane Wade trying to be The Leader and Chris Bosh crying softly in a corner.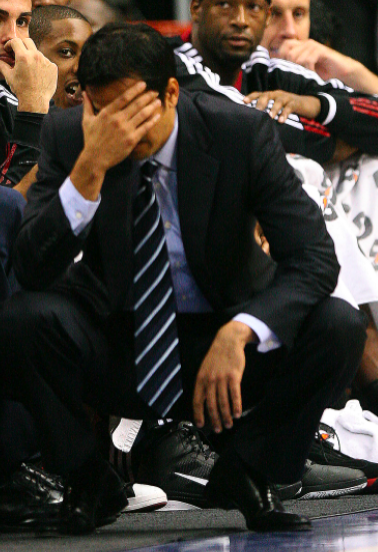 A players only meeting reeks of desperation. These guys are worried. They don't know what's going on. You can point fingers wherever you want and most of them are at Erik Spoelstra. But the idea behind this group was that Bugs Bunny could coach the team and they'd win. Players have got to play, especially when there's this much talent there.
I'm not so sure how much the players only meeting included the other 12 guys on the roster, or if it was really Miami's Big Three talking to each other. Fact is, they've got to play better. That was the plan, that was the idea behind them joining forces. They'd be great and overwhelm teams with talent, and then the other players could fill in a few blanks. Really, after LeBron joined the Heat, most felt like the other 12 guys could be just about
anyone
. But Pat Riley actually put together a nice complementary roster with proven role players like Eddie House, Zydrunas Ilguaskas and
Mike Miller
, who of course is currently injured. And not only is the trio not holding up their end, they aren't getting much support either.
Mike Miller's return will certainly help, but he's not going to fix everything. He'll space the floor, but since when is Miller some kind of super role player that is the missing link between an average basketball team and greatness?
Last season's Heat were 10-7 after the first 17 games. Now this group is definitely better - I have no doubt - but there's a reason they're losing. They haven't gelled, they don't know how to play together and role players aren't playing roles well. Basically, they're a jumbled mess of a basketball team. When you formulate how things are supposed to work, it functions around your best player, his key supporting castmates and then quality role players. The Heat have no idea where or how any of those things fit in.
Will a players only meeting get things going a bit? Maybe. It's good that the team understands that there are issues. Issues that the coaching staff alone can't correct. So they got together and talked about it. Or yelled about it. I guess we won't ever really know.
Wade mentioned after the game how the 2006 Heat championship had a losing record at this point and didn't get going until they were beat down by the Mavericks by 40 points. But comparing that Heat team versus this one isn't accurate at all. One group was structured as a team. The other is built as a group of basketball players. There's a big difference.
Things can get better for the Heat with three winnable games ahead with the
Wizards
and
Pistons
at home and the huge Cavs game on the road. Those may seem like gimmes, but with the way they're playing now, I wouldn't hand them all three.
But even so, beating average and bad teams isn't good enough for this Heat group. They're supposed to be great, remember? They're supposed to win not one, not two, not three, not four, not five, not six, not seven championships. And ironically, unless the players start working this thing out, that statement might actually be exactly right.