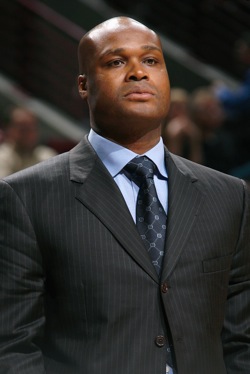 Posted by Royce Young
Right before training camps started in September, former NBA player and renowned long-bomber Antoine Walker expressed interest in a comeback.
Most agreed it was for financial reasons (Walker declared bankruptcy recently), but according to some,
Walker was in shape and committed to this comeback.
It obvious didn't happen for him in making a roster much less get the camp invite from the
Bobcats
like he was hoping for, but that doesn't mean he's given up.
According to FanHouse, Walker is still trying - this time in the D-League.
(
UPDATE:
According to ESPN,
Walker is set to sign with the Idaho Stampede.)
Most thought his "comeback" to the NBA was nothing more than something he was trying on a whim. Something that he thought he could get by name recognition alone, cash some checks and then move on down the line.
But the fact he's willing to go the D-League route shows that Walker is committed. Surely it's still for the money almost exclusively, but the fact he's willing to go the D-League way either says he's actually dedicated to doing this the right way, or he's really, really desperate. Or I guess it could be both.
Walker was picked sixth overall out of Kentucky in 1996, but he actually wouldn't be the oldest player in the D-League. Antonio Daniels, known for his time with the
Spurs
and
Mavericks
actually holds that honor as he's with the Texas Legends, also trying for a late NBA comeback.
Walker - if in shape and ready - could be a serviceable player still. He's always been a deep threat, but he's a talented scorer. People forget that he averaged 17.5 points per game during his career with a high of 23.4 ppg in Boston in 2000-01. He's not
that
old at 34 and if he can get his head right and prepare to fit in to the structure of a team, somebody might give him a shot.
But it's all going to start in the D-League. If Walker's going to go up, he has to first start back at the bottom.