Miami Heat power forward Udonis Haslem eyes an April return from foot surgery. Posted by Ben Golliver.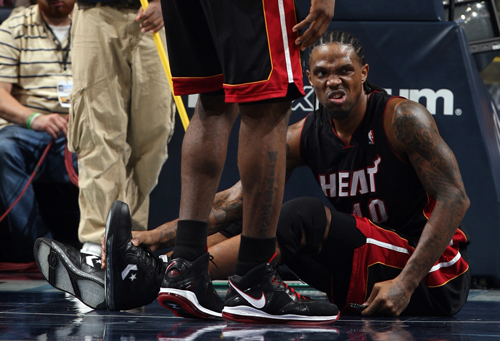 Back on Nov. 21
, Miami Heat forward and co-captain Udonis Haslem tore a ligament in his left foot. He
underwent surgery
two days later and was ruled out for an indefinite period of time, with some reports speculating that the Heat enforcer could miss the entire 2010-2011 NBA season. The Associated Press
reports on Twitter
that Haslem said Monday night that there is "no" chance his season is over and that he is looking "more at April than March" for a return to the court. The Heat conclude their regular season on April 13, but an April return would make Haslem available for a playoff run. (Assuming the Heat avoid the lottery.) Haslem's confidence is good news for the Heat, who badly miss their enforcer. Reserve forward
Juwan Howard
had to step up on Monday night to defend center
Joel Anthony
following
a nasty flagrant foul
by Washington
Wizards
forward
Hilton Armstrong
, and the physical tests for Miami's weak front line are surely just beginning. As badly as Miami misses Haslem's physicality, Haslem misses the rough stuff that has buttered his NBA bread. The
Sun-Sentinel reports on Twitter
that Haslem said on Monday that he wished he could have been out there during the Heat/Wizards game. "I would have loved to be out there tonight, with all the pushing and shoving," the paper quotes Haslem as saying.