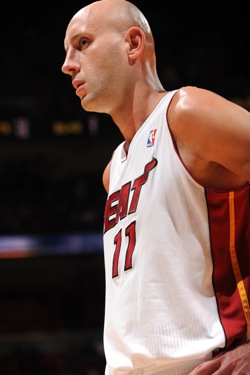 Posted by Royce Young
Thursday night is going to be wild. It's one of the most anticipated regular season games in NBA history and it's not because it's a big game. The
Lakers
and
Celtics
aren't playing. It's not a titanic clash of two superstars.
It's LeBron returning to Cleveland.
But lost in LeBron's super-hyped return is another player on the Miami
Heat
that used to play at Quicken Loans. A guy that spent 13 seasons with the
Cavaliers
and is probably one of their top five players in franchise history in terms of both production and likability.
By now you've remembered that
Zydrunas Ilgauskas
plays for the Heat now and that's who I'm setting up here. And Ilgauskas has mixed feelings about his return. He talked to the AP about it:
"To be honest with you, I don't know what to expect," Ilgauskas said. "It's my first time as a visitor. I'm not going to separate myself from the team. I'm part of the Heat now, so these are my guys and obviously we are going to get a harsh, harsh reception as a team.

"I hope people appreciate what I did there for 14 years," Ilgauskas said, "because I appreciate what they did for me and my family."

I've heard from many that Ilgauskas' return in an opposing uniform may actually be tougher to take for Cavs fans. Not because they hate him for betraying them. Just because they hate that they lost him. Ilgauskas has always been a fan favorite in Cleveland and for Cavs fans, it'll be painful.
Remember last season when the Cavs traded Ilgauskas to make room for Antwan Jamison? There was downright anguish among fans. Ilgauskas was eventually bought on and returned, but his little sabatical was tough for Cavs fans. Now he's gone, for good.
I might be wrong though. Some Cleveland supporters may feel like Ilgauskas jumped ship just like LeBron and he mght hear some scattered boos. But from my understanding, Big Z hasn't had the wrath of vengeance and hatred come down on him like his former Cavalier running buddy.
The weird part is, Ilguaskas will likely get a huge salute, while LeBron will, you know, get not nice things yelled at him. Who knows, that might sting James more than anything.