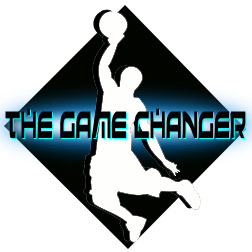 The Miami Heat actually win a game despite a crazy flagrant foul, Russell Westbrook and Chris Paul duel in OKC, Andrei Kirilenko's hair does it again and Houston ... poor Houston.
Posted by Ben Golliver.
Each game is made up of elements which help formulate the outcome. Monday through Friday, we'll bring you the elements from the night before's games in our own specialized version of the game recaps. It's not everything that happened, but it's an insight into what lead to the results you'll see in the box scores. This is
the Game Changer.
THE BIG ONE: MIAMI HEAT BEAT Wizards, GO .500 FOR NOVEMBER
The Miami Heat stood out on a light Monday night of NBA action, and not just because everyone wanted to know whether coach Erik Spoelstra would make it through halftime without being fired. The Heat hosted the Washington Wizards to close their November schedule, and salvaged a .500 month (8-8) with a commanding 105-94 win.
Washington was without rookie point guard sensation
John Wall
, sitting with a sore right knee, so most of the luster on this match-up was lost before tip. In its place arose violence, as a series of chippy episodes cluttered the second half as Miami began to pull away.
The biggest single incident, without a doubt, came when Wizards forward
Hilton Armstrong
used both arms to shove Heat center
Joel Anthony
during a layup attempt, sending him flying through the air Matrix-style and leading to gasps from the crowd. Just take a look at Anthony's horrific flight.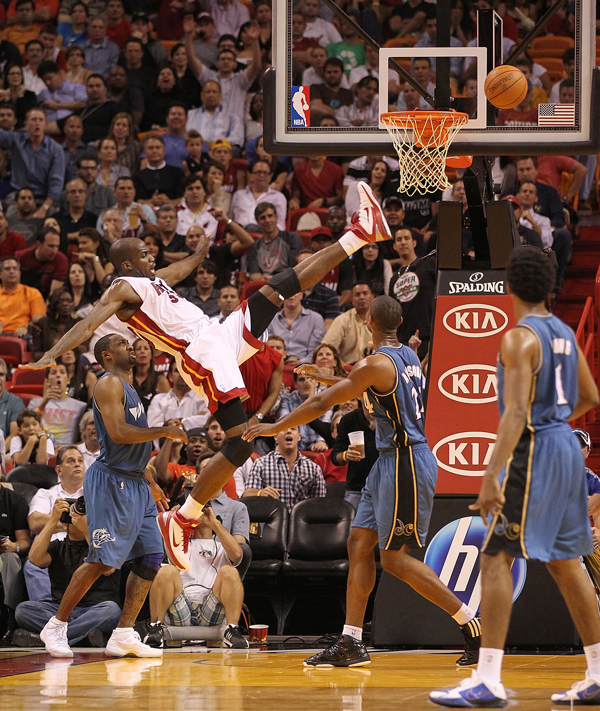 Watch out, below, Gilbert!
Heat forward
Juwan Howard
rushed to Anthony's defense, shoving Armstrong to the ground from behind as he attempted to check on Anthony's health. The sequence led to ejections for both Anthony and Howard. For video of the whole thing,
click here
.
Tensions continued into the fourth quarter as Wizards guard
Kirk Hinrich
and Heat forward
James Jones
got into an elbows-flying, double-technical incident. But, in the end, the bitter back-and-forth proved to be a sideshow. The Big 3 were all dominant, combining for 76 points, 23 rebounds, 12 assists, and six steals, shooting a combined 23-49.
Still not enough to be a quality team, but more than enough to beat an ice-cold Wizards team that shot just 3-17 from downtown. The win ensured that the Heat avoid finishing their first full month of the season with a losing record and buys coach Erik Spoelstra a brief respite from the piranhas circling for his job.
GO-GO-GADGET LINE OF THE NIGHT:
This race came down to the two point guards leading the charge during the game of the night, a spirited New Orleans
Hornets
vs. Oklahoma City
Thunder
slug fest that saw OKC escape, 95-89. Despite the turnovers, Westbrook takes home the honor due to his fearless shot-making to provide most of the winning margin.


Russell Westbrook
: 25 points, 5 rebounds, 11 assists, 5 steals, 8 turnovers on 9-19 shooting in 37 minutes in a home win over the New Orleans Hornets.
Runner-Up...


Chris Paul
: 17 points, 2 rebounds, 14 assists, 5 steals, 2 turnovers on 6-13 shooting in 35 minutes in a road loss to the Oklahoma City Thunder.
LOOK BEHIND YOU CHRIS!
By Royce Young
We call this thing here the Game Changer because every night, there are plays that change games and therefore, outcomes. And Jeff Green's chase-down block of Chris Paul qualifies.
Not completely though, because the Hornets scored four straight points after, putting Oklahoma City down eight. Yet the play energized a somewhat unusually sedate OKC crowd and fired up his team. Green came streaking from halfcourt to block Paul and erase an easy two points. CP3 is one of the fastest players in the league with the ball in his hands, yet Green didn't take the two for granted. He went and made a play.
The Thunder who had been struggling mightily in the third quarter, scored 11 points in the final three minutes of the third and closed the Hornet lead to just two. At that point, the game was up for grabs again and with an energized arena behind them, the Thunder held the Hornets scoreless on 10 straight trips in the fourth, going on a 13-0 run to secure a big 95-89 win.
Here's the block, plus postgame comments from Green talking about it.
WHIMSY:
When in doubt, search for pictures of Andrei Kirilenko's hair on Getty Images. It's like putting a Wayne's World wig on Mt. Rushmore.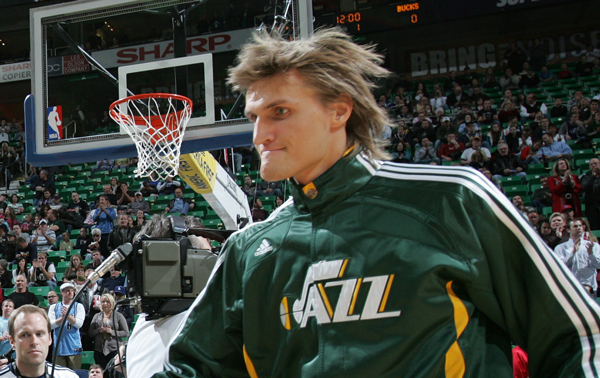 FINAL THOUGHTS:
The Houston Rockets lost to the Dallas Mavericks on Monday night, falling to 5-12. The New York Knicks are currently 9-9. Entering the season, not many would have guessed that Houston's own first round pick would wind up higher in the draft lottery than the pick owed to them by the Knicks. That's how it's shaping up so far.