LeBron James says he "probably" will toss chalk before his Thursday return to Cleveland after bolting the Cavaliers for Miami Heat. Posted by Ben Golliver.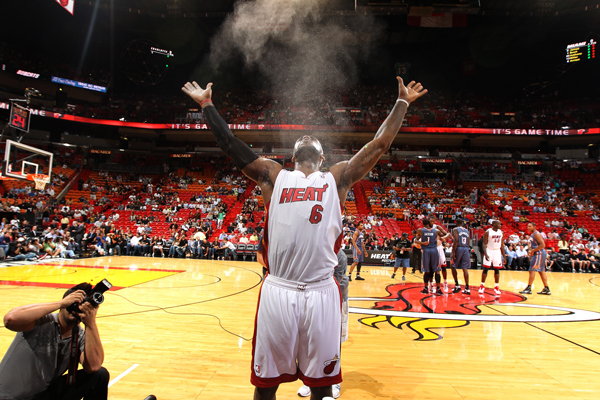 LeBron James continues to astound. Another day, another amazing window into his soul, which appears to be covered entirely in mirrors. The Miami Heat forward was called out last week by TNT broadcaster Charles Barkley, who joked that James would not go through with his customary self-reverential pre-game powder chalk toss before Thursday night's game between the Heat and the Cavaliers, James' first return to Cleveland since he spurned the Cavs for the Heat in free agency last summer. Boston
Celtics
center Shaquille O'Neal piled on,
according to the Akron Beacon-Journal
, stating, "I'm anxious to see [James] do the powder [expletive]. We have bets he won't do it." But despite the fact that tossing the chalk is a ridiculous ritual to begin with, despite the fact that doing so will be going out of his way to incite a hostile Quickens Loan Arena crowd and despite the fact that the Heat should be more concerned about the chalk on Erik Spoelstra's blackboard rather than the chalk that will be sent airborne two days from now, LeBron James is letting the world know that he does not plan to deviate from his "ritual."
The Sun-Sentinel reports
that the chalk tossing will "probably" continue as planned on Thursday. "I probably will. That's a ritual for myself." Some of the wisest words James has ever spoken. It is, indeed, a ritual
for himself
.
The paper also reports
that Miami Heat guard
Dwyane Wade
stands by James' ritual and has even volunteered to act as a surrogate chalk tosser should the need arise. "Wade said LeBron has to toss powder in Cleveland because it is what he does. He said if James doesn't do it, then he would do it for him." The worst part? James and Wade spent Tuesday discussing Thursday's pre-game, when the Heat play the Detroit
Pistons
on Wednesday. The only thing worse than a scripted me-first pre-game show of ego is a scripted me-first pre-game show of ego that becomes a greater distraction. That's where LeBron James' Miami Heat are right now.