Charlotte Bobcats forward Stephen Jackson has been suspended by the NBA for one game after arguing his ejection from a Saturday game against the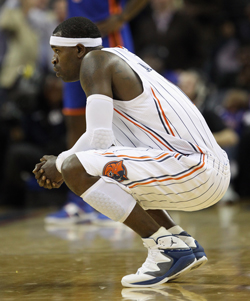 Milwaukee Bucks. Posted by Ben Golliver.
Bobcats forward Stephen Jackson was ejected just five minutes into the first quarter of Charlotte's 104-101 loss on Saturday to the Milwaukee Bucks. Jackson thought he was fouled on a drive to the hoop and, when no whistle was forthcoming, he began berating one of the officials on his way back down the court. In a blink of an eye, Jackson was teed up and tossed, much to the surprise of Jackson and Bobcats coach Larry Brown. You can watch
video of the exchange right here
. Jackson went on to protest the quick hook, obviously, but to no avail. The NBA announced Tuesday that Jackson has been assessed a one-game suspension without pay for "verbal abuse of a game official and failing to leave the court in a timely manner" for arguing the decision after he was ejected. The Bobcats, who are 6-11 on the season, travel to New Orleans to face the
Hornets
on Wednesday. Jackson will serve his suspension then. Jackson is averaging a team-leading 18.1 points as well as 4.2 rebounds and 3.9 assists in 17 games so far this season. Wednesday's game will be the first that Jackson has missed during the 2010-2011 season.