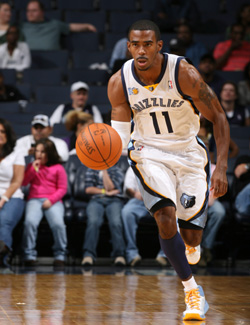 Matt Moore does some self-criticism in light of Mike Conley's emergence as a legit point guard following the Grizzlies' win over the Lakers Tuesday night.
Posted by Matt Moore
I....
overreacted
.
This is a tricky subject, but starting off with that makes it sound like I'm trying to get around the subject. I'm not. I will be telling you, in pain-staking, crow-eating, I-screwed-up fashion why and how I was wrong in
my outright evisceration
of Mike Conley, at least through the first month of the season. But I also can't approach this as simply a "Mike Conley has made the leap and everything I said was wrong" instance. I wasn't, about some things. This also isn't meant to be an outright capitulation of my opinion. But unlike a lot of sportswriters, who are justified in their approach, I don't believe it hurts me to admit when I'm wrong. My job is to try and entertain you and occasionally give you some level of insight into the league. To say that I'm never wrong is to buy into a culture which abhors the idea that we all have more to learn about the game, or that these players we watch and nitpick over can't surprise us. And they can. Mike Conley has.
Here's what I got right, still, at this point.
The 5-year, $40 million extension to Mike Conley was foolhardy, penny wise and pound foolish. In committing the money to Conley before he had played more than five games, the Grizzlies denied themselves the opportunity to see what the market would bear out for Conley in restricted free agency this summer. They bid against themselves and still managed to lose. They still likely overpaid in the long run considering his importance in the long-term success of the team. Furthermost, it's still hard to see, despite assurances from Heisley himself to some of his favorite media outlets, how he's going to justify spending the money necessary to keep the core of this team together, the same core which took down the Lakers in impressive fashion Tuesday night despite a near-loss.
Doing so would require likely overspending on
Zach Randolph
, which is a much more justifiable over-expense than Mike Conley was back in the first week of November. It means finding a reasonable value for
Marc Gasol
, who is arguably the most important and second best overall player on the team behind
Rudy Gay
. And then it means still finding enough left to invest in
O.J. Mayo
, who despite his struggles, still has the capacity to light up teams for 35 on any given night, and whose clutch play down the stretch against the Lakers, particularly in his defense of
Kobe Bryant
's pull-up to tie (which forced a jump-pass to
Ron Artest
which was blocked) was an example of the performance he can give. Re-signing all those players seems unlikely, especially with a second overall pick used on
Hasheem Thabeet
and another first rounder taken on now-starter
Xavier Henry
.
I can't say that the money invested in Conley was wise at the time, or in the context of building towards the future in Memphis, no matter how relatively painless
the extension may be to swallow
. It was yet another example of Michael Heisley's misguided leadership and meddling in the affairs of a relatively shrewd talent evaluator in Chris Wallace.
And that about sums up what I got right. Wrong? I'm going to
FJM
myself now, if you don't mind (which I'm sure is nicer than some of the other things Grizzlies fans want me to do myself).
In the long history of terrible moves by the Memphis Grizzlies, mark my words, this one will reign supreme.

Worse than drafting Hasheem Thabeet .

Okay, stop, right there. Two sentences in, just stop. This was not nearly as bad as drafting Hasheem Thabeet. Know how I know?
Tyreke Evans
,
Brandon Jennings
,
Stephen Curry
,
Darren Collison
. Thanks.
Mike Conley is the worst starting point guard in the NBA. That's including Derek Fisher , who is at this point both a defensive signpost and a superior point guard.

Given the improvements Conley's made to his game (which we'll get to, don't worry), it would be ludicrous to assess him as the 30th worst point guard in the NBA. He's not a top 10. He is solidly in the 18-12 range, depending on the night and the matchup. He's still obliterated by the elite point guards in the NBA, but blaming him for that would be like blaming a cow moose for not outrunning a gazelle from the cheetah. It still has a better chance than the heifer grazing blissfully. Also, if you wanted evidence of Conley's superiority over Fisher, look no further than Tuesday's matchup where it wasn't just the numbers Conley put together (28 points, 3 assists), it was the vast array of ways he destroyed Fisher's "defense."
Conley's biggest problems involve things which are extremely hard to identify in the box score. His turnover margin is acceptable, if not stellar. He was 24th in the league last year in assist rate among point guards who played 25 minutes or more. That's not good, at all, but it's not horrific.
Okay, so
he's only up to 23rd
(going into Tuesday night's games). Considering his usage is at a career high, we can live with that.
Every point guard in the National Basketball Association is able to probe the defense. It involves stepping inside the arc, towards defenders, and maintaining your dribble to see how the defense reacts to penetration. It allows the point guard to evaluate spacing and set up the correct set of decisions. Mike Conley cannot. He will routinely turn his back to a post maneuver, just to avoid losing the ball. This is because he has tremendous difficulty in splitting defenders.
Yeah, all this is gone. While I know Conley read the piece I wrote about him, he no doubt didn't care or adjust his game based on my analysis. Players don't do that, because a. what do we know? And b. you can drive yourself nuts doing that. That said, it sure
seems
like he's almost deliberately showing off this ability with every game. His probe-dribble has become deadly, with a hesitation just inside the arc forcing defenders to close before bursting through and to the rim. It's gone from a massive struggle for him to a significant advantage against slow or inexperienced guards.
He struggles in the pick and roll according to Synergy Sports, averaging just a .79 PPP in the pick and roll and shooting 44% which is a great Field Goal %, but not in pick and roll.
He's raised his Points Per Possession to .812, shooting 46%. It's not worlds better, but it's an improvement from "bad." Likewise, his spot-up shooting has become brilliant with an adjusted field goal percentage (factoring 3-pointers) of 53%.
Conley surrenders a .96 PPP in Isolation, giving up free throws over 16% of the time. In pick and roll, a .82. It's not horrific. It's just miserably average-to-subpar. This at the most important position on the floor. Bear in mind that Conley plays in a high-octane, weapon-loaded offense that allows him to get out in transition and get easy buckets. Yet he turned the ball over in transition 16.7% of the time.


Okay, so not everything's improved. He's still turning the ball over 16.2% of the time in transition and is now surrendering a .95 PPP in the pick and roll. Rome wasn't built in a day.
Advanced stats don't look much better. Conley has never posted a +15 PER, the benchmark of an average player in the league.
Conley
entered the night with a 15.70 PER
. And that's after a mini-slump. And it's likely to rise after a high-efficiency, high-usage night against LA.
But none of these things can encapsulate the real improvements in Conley. He's made the jump to being a legit starting point guard who you can rely on to set the offense, make the right decision, and execute the play. He's no longer overwhelmed with pressure. On the Grizzlies' last possession, he navigated the Marc Gasol pick, and swung short to drive. His move was to lob the pass to Marc Gasol.
Pau Gasol
raised his boat-oar arms and snatched it away. Upon first watch, it looked like your run-of-the-mill Conley turnover. But his decision was sharp, it was correct, the move precise, the pass on target. Pau Gasol just made a great defensive play. Considering the disaster the Lakers ran in their final possession, it looks like a dream.
Mike Conley is not an elite point guard, but
he's also not paid like one
. But for a player who was decimated by fans and media, and most especially by me, after his extension, he's made good on it. He's become a starting-caliber point guard, and has been a huge part of why the Grizzlies find themselves... well, 8-10. The bench is still terrible. But point guard is no longer a position of need, at least right now, for the Memphis Grizzlies. This can surely change as the months stretch on to become a season, but it's in our best interest for me to tell you, that provided he does not regress:
I was wrong about Mike Conley.