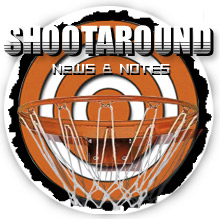 Lakers lose three straight, Blazers lose four straight, Tracy McGrady continues to be delusional, Tim Duncan notches a triple-double, LeBron James is a "lost cause" and Doug Collins has some advice for Greg Oden. Posted by Ben Golliver.
The Los Angeles Lakers lost their third straight game, this time to the Memphis Grizzlies, and forward Ron Artest his last-second missed shot at winning the game to the Los Angeles Times. "Then this jumping bean, guy by the name of Rudy Gay, comes and blocks the shot," Artest said. "I thought it was going in. I'm like, 'Why is the ball going short?' I knew the wind wasn't blowing. The ball just stopped after he blocked the shot."
Detroit Pistons forward Tracy McGrady, who has been vocal recently about the Miami Heat's struggles and has looked washed up for at least the last year or so, tells the Orlando Sentinel that he has plenty left in the tank. "I'm not what I once was, but I think I'm a smart enough basketball player to be able to modify my game. It's just working on fine-tuning what I can and what I can't do on the basketball court. Everything is an adjustment. As long as I'm healthy, I feel good about my future." When asked if he feels he could play "a couple more years," he responded, "There's no doubt."
The New York Knicks topped the New Jersey Nets on Tuesday, but Nets owner Mikhail Prokhorov wasn't pleased with a Knicks ad that took a shot at his franchise. "I don't think we want to be like the Knicks. I think we'd more like to resemble the Lakers," the New York Times quotes him as saying.
Tim Duncan put up a triple-double (15 points, 18 rebounds and 11 assists, which tied his career high) in San Antonio's Tuesday win over Golden State. MySanAntonio.com has his coach, Gregg Popovich, paying tribute. "He's been the heart and soul of our program for a long time," Popovich said of Duncan, a 12-time All-Star. "He's where it all begins, and after all these years we probably still take it for granted."
Philadelphia 76ers coach Doug Collins, a former player that dealt extensively with injuries, was asked by Philly.com about Portland Trail Blazers center Greg Oden. "The thing you worry about is what am I going to feel like the next day? It's hard to enjoy the game. When your health has been taken away from you, you lose the love of the game. Hopefully that doesn't happen to him because he's still very young and I hope he's going to be able to bounce back. It just seems like at every turn he's getting punched in the gut right now. I wouldn't wish that upon anybody."