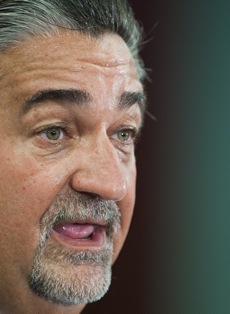 Posted by Royce Young
There's been rumor around
Gilbert Arenas
getting traded basically since the Washington
Wizards
won the lottery. It's pretty obvious that the Wizards have at least asked around who migt be interested.
And with the latest rumor coming out today
that included Arenas in a deal that would send him to Orlando, the organization saw it fit to try and shoot it down.
Wizard owner Ted Leonsis told the Washington Post it's not happening:
"The team is trying to rebuild and Gilbert is one of the leaders on the team," Leonsis wrote. "Gilbert is the best player on the team right now…. It isn't true. I wouldn't tell you if it was true but I am telling you that it is not true."

The caveat at the end there is my favorite part.
I wouldn't tell you if it was, but I'm telling you it's not.
Believable.
Still, the Wizards are at least denying it which speaks to the fact they might be willing to hold on to Arenas for at least the rest of this season and maybe another after.
Leonsis has been a very public supporter of Arenas over the past year and this isn't a surprise. He's probably telling the truth in regard to this specific talk. But if the right deal were to come along, I don't think the Wizards would think too much about offloading Arenas' huge contract and start the transition entirely to the
John Wall
Era.