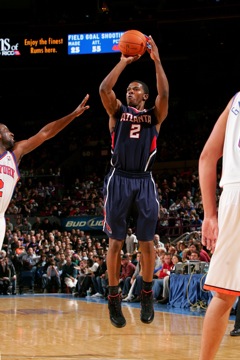 Posted by Royce Young
Joe Johnson
, who signed a massive extension in the offseason and is the Atlanta
Hawks
' best player, leading scorer and go-to player late in games, is out 4-6 weeks after having arthroscopic surgery on his right elbow.
For you non-perceptive readers, that's his shooting arm.
Mo Evans started in place of Johnson Wednesday, but it's likely reigning Sixth Man of the Year
Jamal Crawford
could be used more, potentially even starting.
Nobody really even knew Johnson was having an issue, but he's been shooting the ball uncharacteristically poor (just 25.6 percent from 3) and has seen his average dip to 17.1 points per game.
His last game which was against the defensively challenged
Knicks
, Johnson went just 3-15 from the field. Reportedly, he woke up the next day and complained his elbow was sore.
Better to get this taken care of now if it's bothering him that much rather than battling through it while not being himself. Being out 4-6 weeks in December isn't near as big as having an elbow that's balky in April.
Still, really no telling what the issue is at this point. But it's surgery for Johnson and the Hawks will suffer. They're 11-7 after starting the season 6-0. Maintaining for the Hawks will be the goal and having Crawford as a backup scorer is a nice luxury. But who takes the big shot late in games? Can Crawford consistently score? Big questions the Hawks will have to answer of the next month or so.