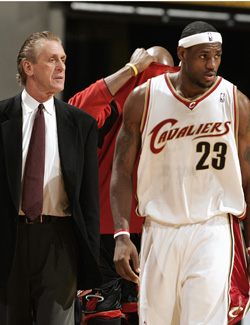 The Miami Heat are being investigated by the Cavaliers regarding tampering charges. We look at the burden of proof and the possible fallout. Posted by Matt Moore
And boom goes the Comic Sans.
The Cleveland Cavaliers have poured hundreds of thousands of dollars into a high-powered Midwestern law firm to investigate their suspicions that the Miami Heat broke NBA tampering rules while pursuing LeBron Jamesnotes, and owner Dan Gilbert has privately vowed he won't relent until he has a thick binder of findings to drop on the desk of the NBA commissioner, league sources told Yahoo! Sports.
(via Cavaliers probing Heat's signing of James - NBA - Yahoo! Sports )
As Ken Berger elucidates , this is a sticky situation that 's going to be awfully difficult for Cleveland to prove. The burden of proof is obviously on Cleveland and you're trying to not only prove that the meetings took place but the conversations that occurred without recording or documentation and the context within which the conversations took place.
Still, if the Cavs do plop down the "binder" on Stern's desk, he's going to have to proceed with caution. He was already viewed as a willing participant in the Heat's summer shenanigans. With a thorough report on his desk he'll have to give it the consideration it requires. Not because Dan Gilbert levied it, but because word is that Gilbert wasn't the only owner concerned that something was amiss.
Fines aren't really going to be a big problem for the Heat were they to wind up guilty as charged, so to speak, since they're producing so much revenue thanks to the Big 3. Front office suspensions are hard to see as troublesome since Pat Riley is really the only one in charge, he's pretty much done his job for the year, and it's not like ownership is going to make a change away from Riley.
Which leaves draft picks. The Heat have traded or swapped the most picks they can over the next four years. Removing draft picks would mean losing high first round picks who aren't likely to get playing time on a team obviously committed to the veteran role player approach.
In other words, losing some draft picks and some dough to get LeBron James, Dwyane Wade, and Chris Bosh for six years, even if they're struggling now?
I believe the phrase is, "Worth it."
Whether it was moral or not, that's another, and possibly irrelevant question.
Boy, the owner talks about the CBA are going to loads of fun when Micky Arison and Dan Gilbert show up at the same time. Awkward.