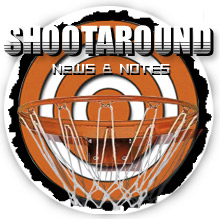 Rondo has a nickname, Sanders has a bunch of blocks, and oh, yeah, some guy comes back to Ohio today, all in today's Shootaround. Posted by Matt Moore
At CavsBlog, John Krolik welcomes back the Chosen One to the city he abandoned: "Welcome back to the Q. Last time you were here, you went 3-14 in a 32-point loss. Maybe the booing will motivate you to do better this time. I am fairly confident that you will not always be hated the way you are now. You will probably be loved someday. But you will never be loved with the kind of passion that Cleveland hates you with now. I am fairly confident of this. You may as well embrace that, because it's far too late to try and change it."
A different take which I was curious if it would exist today: Terry Pluto for Cleveland.com feels more sadness than anger at the return of LeBron:"But one night on ESPN changed all that. It's not tragic. It's not the end of Northeast Ohio. It's not something that dramatically impacts the lives of most people here. It's just sad . . . and James should have known better."
Fear The Swords is swelling with pride for a place so often draped in disappointment and failure as a day of judgment for their city arrives.