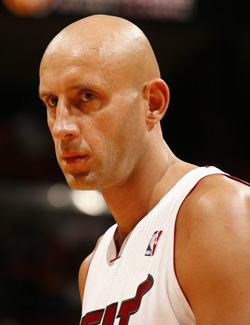 Former Cav suggests that maybe we're all going a little nuts over Heat-Cavs Thursday night.
Posted by Matt Moore
Zydrunas Ilgauskas
isn't hated in Cleveland like
LeBron James
is for his defection to the Heat. He may even receive a fair amount of cheers tonight when introduced. He was a career-long Cavalier until this season when he joined his friend to try and win that championship that has held itself beyond his reach. So he's got a pretty good perspective on all the elements, people, and feelings going on as James returns to Cleveland. But with the tampering charges being investigated by Dan Gilbert, Ilgauskas isn't quite feeling polite about the hoopla regarding James' return. As he told NBA FanHouse:
"That's chasing ghosts right there," he told FanHouse while shaking his head. "Let bygones be bygones. There are more important things in life: people dying from cancer every day, kids dying every day, people having HIV, people fighting wars. There are more important things than the Miami Heat going back to Cleveland.

"Let's put life in perspective, it's just a basketball game."
via
LeBron James, Miami Heat Teammates React to Dan Gilbert's Tampering Probe -- NBA FanHouse
.
I kind of want to hug Ilgauskas after this quote. His comments are in regards to the tampering charge specifically, but this statement needs to be made into T-Shirts, cofee mugs, and gigantic billboards on the sides of buildings. It's completely fine for Cleveland to be upset about this. It's important to them. But it's still just a basketball game.
You have to wonder with the increased security, tension, and pain being expressed over this game, if everyone hasn't lost sight of that fact.