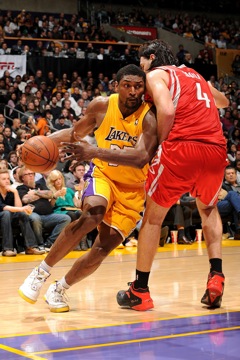 Posted by Royce Young
I started to list out all the things
Ron Artest
has done over the past few years to try and illustrate how crazy awesome he is. That list got long fast. So instead of trying and compile it, just know that his most recent stunt is definitely ranked highly on the list.
Following the
Lakers
loss to the
Rockets
Wednesday night,
Artest called in to a Houston postgame show
(click the link to listen). Not to defend himself or to talk about the game. Nah, he just wanted to pretend to be
Luis Scola
.
Artest used a really weak accent that went in and out and just seemed to try and talk faster to imitate Scola. But here's a few of the best things he said:
"I think I'm the best player in the world and no one can stop me. I feel like I'm like Shaq. I feel like I'm the best."
"I feel like I am the best around, in the world. You see the guys that couldn't even hold me. They tried guarding me and they couldn't. I just had the hook shot — that right hook shot — they can't stop it."
When Chuck Hayes was mentioned: "Actually Chuck Wagon he didn't play with any boxers on today. He said he wanted to play and just play hard. He had nooo boxers on tonight. No Spandex. He play freeballing. So he was a warrior tonight and we won it. The Rockets are back."
When asked how he'll celebrate the win: "I'll celebrate, just go eat some Spanish food. And, uh, just eat Spanish food, I think."
Artest played with Scola and the Rockets before he signed with the Lakers before last season. So obviously he's got pre-existing relationships with Scola and Hayes and a bunch of those guys. And probably the postgame host too.
I love players that don't take things too seriously so as you might imagine, I enjoy Ron Artest very much. I'm ready for him to release a video imitating every player in the NBA. I would imagine his
Timofey Mozgov
is SPOT ON.
Via Deadspin