LeBron James of the Miami Heat returned to Cleveland for a game against the Cavaliers in Quicken Loans Arena and Cavs fans greeted him with an assortment of signs and t-shirts. Posted by Ben Golliver.

Here's a slideshow of LeBron James signs and shirts worn and held by Cavs fans at The Q during Thursday night's game between the Cleveland Cavaliers and the Miami Heat.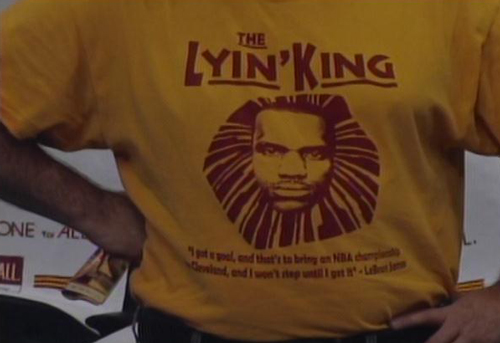 This shirt, in Cavs colors, reads: "The Lyin' King. I got a goal, and that's to bring an NBA championship in Cleveland, and I won't stop until I get it. - LeBron James." It features a picture of LeBron James with a mane like Disney's
The Lion King
.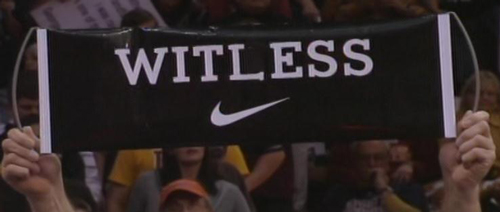 This sign is a play on the Nike marketing slogan, "Witness." The slogan was used to signify those who had seen James' magical play. "Witless," is obviously a stab at James' sloppy handling of The Decision to leave Cleveland for Miami.

These fans kept it simple, each wearing a letter on their chest that spelled out, "Betrayed." The City of Cleveland and Cavs fans feel a deep sense of betrayal by James' decision to take his talents to South Beach.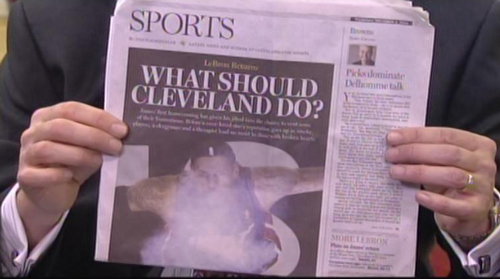 Here's a copy of a newspaper sports section that asks, "What should Cleveland do?" It's a play on a recent LeBron James Nike commercial which asked, "What should I do?" There was concern that Cleveland fans would misbehave during the game.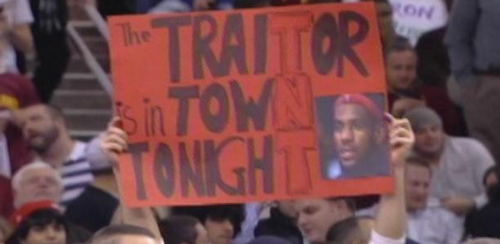 The Cavs. vs. Heat game was televised on TNT and this sign is a play on the station's name. It reads, "The Traitor is in Town Tonight."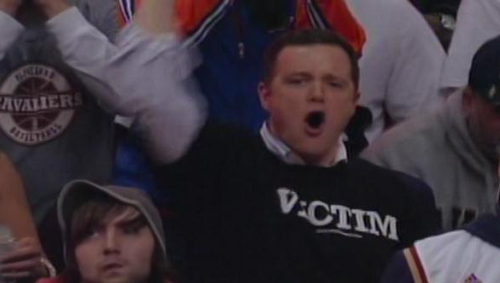 Here's another play on the "Witness" marketing campaign by Nike, this time the shirt reads, "Victim."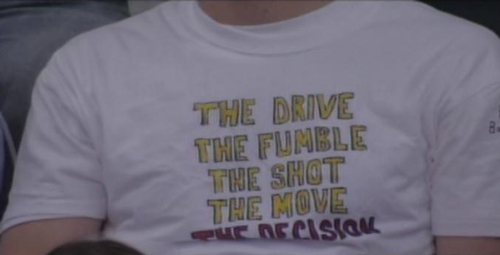 This shirt commemorates some of Cleveland's biggest sports disappointments and reads, "The Drive. The Fumble. The Shot. The Move. The Decision." The last one is a reference to LeBron James' television special in which he announced he was leaving to join
Chris Bosh
and
Dwyane Wade
in Miami.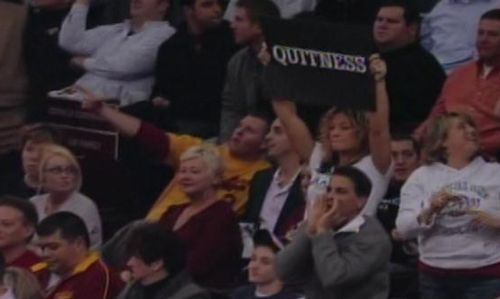 Here's another play on the "Witness" marketing campaign that reads, "Quitness." Some NBA observers believe James quit on the Cavaliers during their 2010 NBA playoff series against the Boston
Celtics
.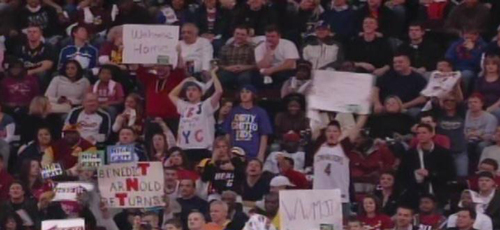 There's a whole bunch of signs in this shot, but the best is "WWMJD." An obvious reference to "What Would Michael Jordan Do?" Jordan has stated he wouldn't have teamed up with fellow stars like James did in teaming up with Wade and Bosh.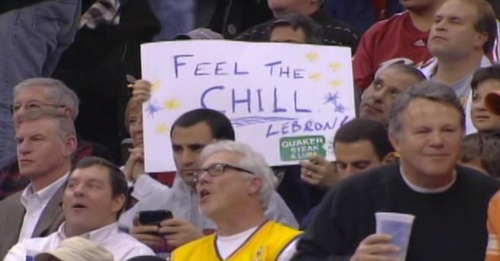 This sign reads "Feel the Chill," a reference to comments made recently by Bosh, who said the Heat players wanted to "chill" despite coach Erik Spoelstra wanted them to practice hard.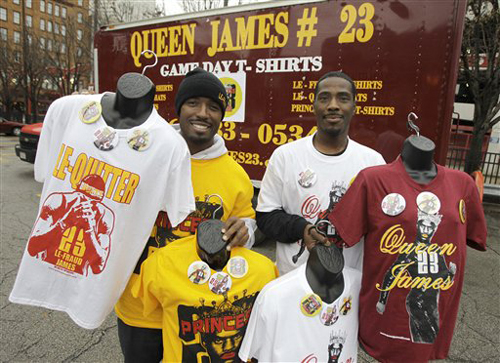 Here are some Cleveland street vendors selling shirts that read "Queen James" and "Le-Quitter." LeBron has been dubbed "King James," so this is a pretty uncreative play on that nickname. Via Getty Images.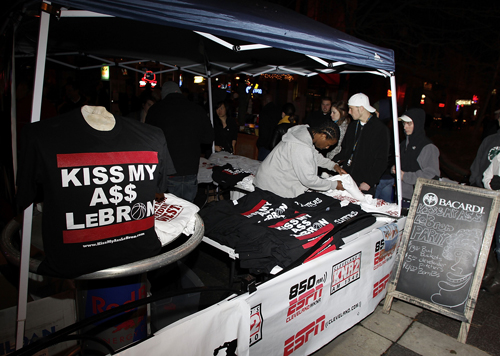 Here's an entire stand in Cleveland set up to sell shirts that read, "Kiss my [expletive] LeBron." Via Getty Images.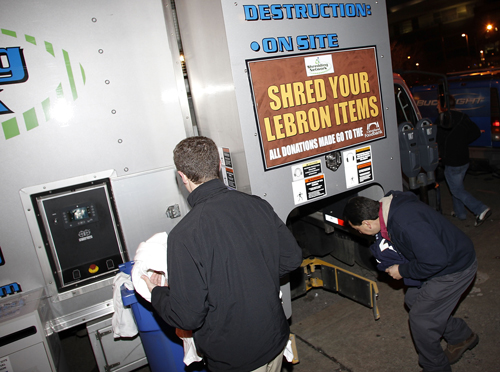 Shredders were set up so that fans could shred all of their old LeBron James memorabilia. Via AP wire.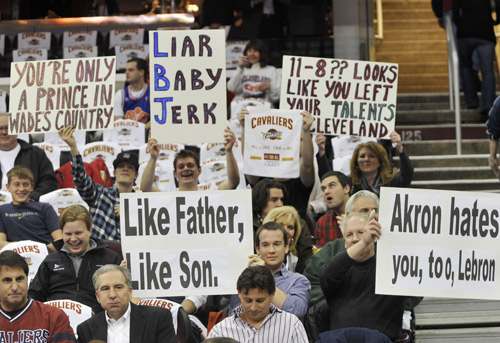 This collage of signs read: "You're only a prince in Wade's country," "Like Father, Like Son," "Akron hates you, too, LeBron," "Liar Baby Jerk," and "11-8?? Looks like you left your talents in Cleveland. Via AP wire.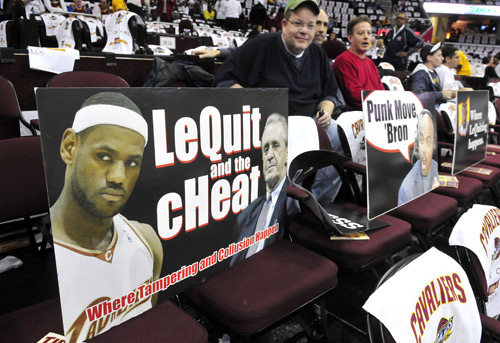 These signs read, "LeQuit and the Cheat" with a picture of LeBron James and Heat President Pat Riley, as well as "Punk Move 'Bron," with a picture of Charles Barkley. Via US Presswire.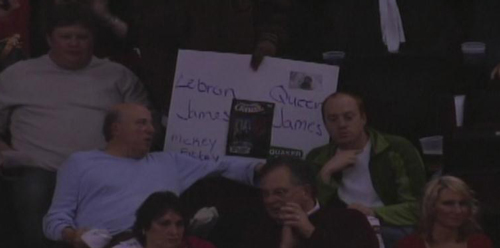 This last one is pretty crude, reading: "LeBron James. Queen James."