LeBron James of the Miami Heat took to Twitter to clarify comments he made to TNT's Craig Sager after Miami defeated the Cleveland Cavaliers on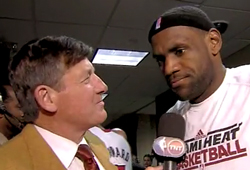 Thursday night. Posted by Ben Golliver.
Following the Miami Heat's Thursday night demolition of the Cleveland Cavaliers, LeBron James was interviewed by TNT's Craig Sager, who asked him for his message to Cleveland fans and whether he wanted to apologize for The Decision, the television special in which he announced he was "Taking his talents to South Beach," leaving the Cavaliers to join
Dwyane Wade
and
Chris Bosh
in Miami. To Cleveland, James told Sager, "Seven great years. Loved every part. Loved every moment. From the growth when I was an 18 year old kid to a 25 year old man. We tried our best, as a team, we tried our best to bring a championship to this city and just try to play hard every night. I have the utmost respect for this franchise, utmost respect for these fans, and just continue the greatness for myself here in Miami and try to get better everyday." James' comment about "greatness for myself" drew immediate criticism on Twitter. Within hours of the game ending,
James tweeted a clarification
. "Did a post game interview with Craig Sager and I mentioned "Greatness" and I didn't mean my self individually, I meant to say US as a TEAM working towards "Greatness". Anyways Great Team Win for US tonight!" As for The Decision, James refused to apologize for how the television special unfolded. "I don't want to apologize," he told Sager. "I think my intentions was not to hurt anyone. My attention was solely on kids in the whole process. I'll always say, the decisions I'll make, I live with them. There's always ways that you can correct them, or ways you can do them better. But, at the end of the day, I live with them. I'm satisfied and I'm happy right now." Here's the
full video of LeBron James' post-game interview with Craig Sager
.