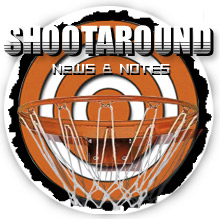 Posted by Royce Young
John Krolik of Cavs The Blog: "These were the Heat we all feared. When the Heat play like this, no team can beat them, especially if they have the kind of limited talent the Cavs do. This was also the first night the Heat really played like this, and they still have to prove themselves with another win over a plus – .500 team. This was the night Miami said "enough with the excuses, we are too good to do anything other than embarrass teams like this," and that started with LeBron."
Israel Gutierrez of The Miami Herald: "The Heat played with a purpose. A playoff-like purpose. This historic return home for one of the NBA's greatest might have become his biggest victory to date. He came out of this not only with the reassurance that he made the right choice, but he left more confident about it than ever. He came out of it knowing that Wade isn't a player with whom he's competing for touches, but possibly the best teammate he could have in moments like this. He came out of it knowing that, just days after he reportedly turned on his head coach, the Heat would still come together to support him. ... Now LeBron can move on."
Terry Pluto of The Plain Dealer: "Northeast Ohio can be proud of its fans, but the Cavs were horrible. After jumping to a 17-12 lead, they were overwhelmed by James and the Heat. By the end of the first quarter, they were behind, 31-23. At the half, it was 59-40. It just kept getting worse. As the Cavs crumbled, the Heat united around James, who had an MVP-type game with 38 points, five rebounds and eight assists. Who knows if Miami (12-8) uses this game -- its third victory in a row -- to help turn its season around? Frankly, who in Northeast Ohio cares? The Cavaliers were chastised by coach Byron Scott for a lazy approach. During the game as he was pouring in the points, James walked over to the bench a few times and chatted with some of his former teammates. The Cavaliers should be embarrassed by their lack of effort. But not the fans. They were at their best when so many people expected the worst."