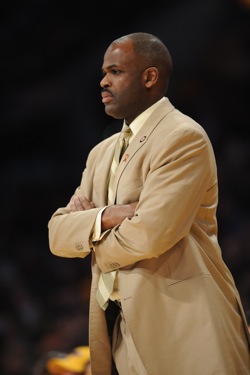 Posted by Royce Young
The Blazers are just 8-10 and have lost five straight. Not players that is. Games.
And because of that, the finger is starting to get pointed. Portland has maybe the best basketball fans in the league, but with that comes a rabid sense of entitlement. Losing can't happen. And when it does, people have to be held accountable. That's the way it works in the biggest basketball markets.
Surely though Nate McMillan wouldn't be the one that would have the finger pointed at. Right? RIGHT!?
But John Canzano of The Oregonian worries
that the dreaded Vulcans in Seattle might make that call.
"At 8-10, we've arrived at the point of the season in which the Vulcans will surely start rolling their eyes and declaring that the issue here must be coaching. Remember, this is a bunch that dispatched a security team once to search computer hard drives at the team practice facility because it feared a leak. So McMillan should prepare himself, if he hasn't already.

[...]

They get some right. They get some wrong. But there's not a plan in sight, ever. The hiring of McMillan was a nice get five years ago, and his firing now would be a disaster."

(The Vulcans are Portland's upper management. Blazers owner Paul Allen has a company called Vulcan Inc. and people in Portland refer bosses as "Vulcans.")
Canzano is absolutely right. Canning McMillan would be a huge, huge mistake. Scott Brooks was awarded Coach of the Year and was very deserving for taking a 23-win
Thunder
team to 50, but if I were voting, McMillan was my pick. Really, I didn't see another option. Based around what he went through last season but still fielded the seventh seeded playoff team in the West is miraculous.
It's still early too in this season. The Blazers aren't mathmatically eliminated from anything yet. Sure,
Brandon Roy
is going to play the rest of the year with Christmas wrapping paper for knee tendons and
Greg Oden
is gone, but
Joel Przybilla
is coming back soon, plus players like
Wesley Matthews
and
Nicolas Batum
have shown promise. There's no reason they can't weather another storm and stay competitive. Jumping the gun on McMillan now would be quite the knee-jerk reaction.
But then again, the Vulcans were the ones that pushed for first assistant general manager Tom Penn to be fired and then general manager Kevin Pritchard to be let go. Both seemed random and unprovoked at the time. So nobody is probably safe.
McMillan can coach. And he can handle and manage adversity. So obviously, he's the right man for the Blazers.