Portland Trail Blazers coach Nate McMillan admits his team is "not responding" to him during its current six-game losing streak. Posted by Ben Golliver.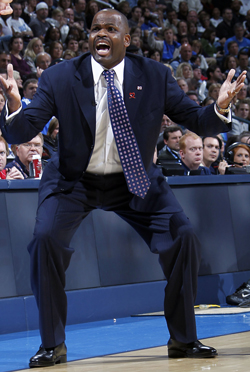 The Portland Trail Blazers enter Sunday night's game against the Los Angeles
Clippers
riding a six-game losing streak,
their longest such streak since 2005-2006
, when the team won just 21 games. Following the sixth straight defeat, a road loss to the Washington
Wizards
on Friday night, Blazers coach Nate McMillan
admitted to The Oregonian
that he is having trouble reaching his team.
"Evidently, they're not responding to me, because all these games look similar," McMillan said. "So I asked them: 'Is it clear what we're asking you to do?'"
His words were met with blank states and silence. "They didn't say anything," McMillan said. "The thing is, they didn't have to say anything. I think the games show that. We're not getting it done."
Dwight Jaynes, a Portland-based television and radio host,
blogged that the comments
, plus the team's lack of effort, signal that McMillan's time in Portland may be running out.
And while I watched the Trail Blazers' pathetic effort Friday night in Washington against the Wizards, it crossed my mind what I've written here previously — are the Blazer players trying to get their coach fired? It sure looks like it.
Sometimes, players just tire of hearing the same messages from their coach. At some unconscious (usually) level, they work toward an outcome that they'd like to see — the departure of their coach. It certainly looks as if the Blazers, on some level, have chosen this course.
There's no question the Blazers are playing lackluster, defeated basketball, losing game after game with second-half collapses, playing without inspiration and purpose. Any time that happens,
the coach finds himself on the hot seat
. It's worth noting that Portland's losing streak coincides almost exactly with the team's announcement that center
Greg Oden
would miss the entire 2010-2011 season with microfracture surgery. The Blazers are 1-6 since the Nov. 17 press conference announcing the decision to undergo surgery. Prior to the news, the team was 7-5. If there was a concerning element to training camp this year, in hindsight, it was an overall attitude that can best be summarized as, "We just need to hang on until Oden gets back." Rather than truly confronting life without Oden, players, coaches, management, media and fans alike used his absence and expected return as a mental crutch. That was reflected in indifferent play during the preseason, a failure to consider the ramifications of playing
LaMarcus Aldridge
and
Marcus Camby
heavy, heavy minutes, the salary dump of rotation spark plug
Jerryd Bayless
and the team's decision to make due with fourth-rate backup centers after second-year big man Jeff Pendergraph went down with injury. Whereas last year's Blazers rallied together in Oden's absence, greeting Camby's arrival via trade with huge enthusiasm that propelled the team into the playoffs down the stretch, this year's team has received the news of his absence with hopelessness and a wary eye towards the rest of a lengthy schedule. All star guard
Brandon Roy
's balky knee and inefficient play only reinforces that glass-is-half-empty mentality, because the guy who could always be counted on to bail the team out simply cannot produce as he was once capable. Which brings us back to the question of McMillan and his future. One factor lost in this discussion so far has been McMillan's long-term motivation to stay in Portland. His greatest skills as a coach, so far, have been motivating his players and designing an offensive system that takes advantage of his star player's abilities. With an older, already-paid roster and a not-what-he-used-to-be Roy, McMillan's skills are much less useful and effective in Portland than they used to be. Surely, he knows that better than anyone, and you have to wonder whether that will impact his desire to stay in Portland should he survive the season without being fired. He's coveted around the league for his ties to Team USA and his ability to relate to star players and bench guys alike. There might not be jobs that pay him more than Blazers owner Paul Allen does, but there will almost assuredly be better fits for his talents. The problem for Portland is that there is no readily available, quality alternative to McMillan in the short term. McMillan's best assistant coach last season, Monty Williams, left to serve as the head coach of the New Orleans
Hornets
. His most promising assistant this year, Kaleb Canales, is still too young to take the reins as a head coach. The thought of bland NBA lifers like Bernie Bickerstaff and Bob Ociepka taking over on an interim basis is so depressing that we'll just pretend it's not even being considered. And there is no obvious candidate on the basketball operations staff to step in down the stretch like former general manager Kevin Pritchard did. Somewhat sadly, the most qualified replacement candidate currently affiliated with the organization is Terry Porter, who is currently serving as the team's sideline reporter (yes, seriously). History has proven that, apples to apples, McMillan, despite his flaws as an in-game tactician, mediocre defensive results and griding pace, is a superior coach to Porter. The worst thing the Blazers could do in this situation is make an emotional decision regarding their coaching spot in response to the losing. Reality is setting in and expectations are being lowered by the fanbase, which is completely aware of what is happening. A coaching change without a roster change is not likely to inspire any hope for the fans, except for a contingent that has wanted McMillan gone all along because his style is boring. It might provide a momentary bump for the players, but they'll still be looking around the locker room at the same group of teammates that have no answers themselves. In other words, a new voice could help, but it's not going to save this Oden-less season, not even close. Whether McMillan stays or goes, then, simply isn't that important of a question right now, given all of the surrounding circumstances. Therefore, he should be allowed to stick around, as long as he is able to keep the Blazers from embarrassing themselves. Once the season is completed, though, all bets are off, for both sides.