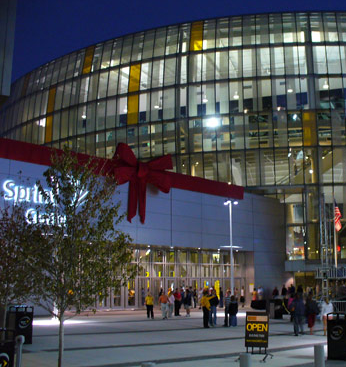 Posted by Royce Young
If, and that's a big if, the
Hornets
don't stay in New Orleans, a number of cities will be lining up to grab them.
And a report from FanHouse says the league is strongly looking
at moving the team to Kansas City and the newly built Sprint Center.
Matt Moore laid out a number of possibilities
that included Seattle, Anaheim, Chicago and Kansas City. What's the drawback to KC? Here's what Matt said:
That said, the jewel in their crown is pretty simple. It's the building. Sprint Center, built in 2005 and opened in 2007, has a capacity of 18,555 with a considerably higher number of available luxury suites and club seating due to how the building was constructed. Specifically, the arena was built to capitalize on how current arena economics work. Tickets are valuable, to be sure, but the money is made with sponsorships, and luxury seating.

What's missing? A buyer. AEG who owns the Sprint Center, made noise early on about pursuing either a hockey or basketball team to fill the arena. But with the Pittsburgh Penguins using them as a straw man to get a new arena in Pittsburgh, there has been no team to arrive. Furthermore, it turns out the arena is making more money as a concert venue than it may with a regular tenant. With the recession having hit Kansas City well before the rest of the country and a lack of progressive technology firms in the area, finding a prospective owner outside of AEG is going to be a hard sell. Kansas City remains a viable candidate but it remains to be seen if either AEG or the city will commit to making a serious inquiry toward the Hornets.

Other than the sentimental reasons to bring a team back to Seattle, Kansas City has to be the leader in the clubhouse. New building, big corporate city with a number of sponsorship opportunities and the potential for a great, dedicated fanbase. Like Matt pointed out, it all comes down to a buyer that wants to bring a team there.
The concern over it being a college town is a good one, but the same was said for Oklahoma City and I think we've all seen how that went over. Competing with the Jayhawks and the Missouri Tigers wouldn't be easy for a professional franchise, but in a market like Kansas City, there's always room for more basketball.
But it's not about those reasons. It's about the building. Kansas City has what the league likes and what a prospective owner loves: a brand new arena that can make money. If Seattle had something new, no doubt in my mind it would be the frontrunner. But the NBA is about money and by all appearances, Kansas City would have the best shot at making the most right now.