Posted by Royce Young
Every season, there's a surprise team. Somebody not many people picked as having much of a shot that positions itself for a playoff run. In the Eastern Conference, it's not all that hard. Wiggling into either the seventh or eighth seed doesn't require the best of seasons.
So that's why before the 2010-11 campaign even started, teams like the
Knicks
and
Pacers
had a cautiously optimistic view of the season. But here we are at the quarter mark and wouldn't you know it, both teams are positioned in the top eight in the East. It's early yet, but there's reason for hope in both cities right now.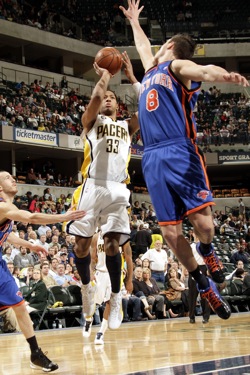 But before you get too pumped up Knicks fans, consider that New York has had a pretty favorable schedule the past few weeks. After dropping six straight and to 3-8 overall, the Knicks ripped off five in a row, then lost and now are on another five-game streak. They've won 10 of 11 and have pushed their record to 13-9.
In that stretch however, only one of the teams the Knicks defeated had a winning record, and that's the slipping
Hornets
. The one "good" team New York played, it lost to at home (Atlanta). So maybe everyone should just chill for a second. Still though, winning in the NBA isn't easy and these are games the Knicks wouldn't have won last season. Beating average and bad teams is the start to a playoff run and that's what New York is doing.
The Pacers on the other hand, have stayed relatively consistent throughout the season. Unlike the Knicks, there hasn't been the peaks and valleys. The longest losing streak for Indiana is two and the longest winning streak is two. The Pacers have beat good teams, including the
Lakers
at Staples, the
Heat
in Miami and the
Nuggets
. For the most part though they're losing to the good teams, beating the bad and splitting with the average. But again, a major step forward for them
So what's making the difference for each squad this season? A couple things:
THE KNICKS
Improved defense
- The key word here is "improved." It's not
great
(109.1 in defensive rating, 20th in the league), but it's
better.
They lead the league in blocks and it's clear they work really, really hard. The defense isn't going to be winning them games. But it might not be losing them any either.
Raymond Felton
- You probably haven't realized how well Felton is playing. I don't blame you. I didn't notice until the other day. He's eighth in the league in assists per game (8.5) and seventh in scoring for point guards per game (18.1). He's hitting 37.6 percent from 3 and has a career-high percentage from the field. Felton is easily putting together his best year as a pro. It helps to have
Amar'e Stoudemire
and Mike D'Antoni's system, but a player has to play well, and Felton is.
Role players
- Rookie
Landry Fields
has been stellar off the bench and now in his starting role.
Toney Douglas
has provided them an outside spark.
Shawne Williams
in just five games has made an immediate impact. The Knicks are finally getting contribution from their bench and it's making a difference. They only have one star in Stoudemire, but the cast of extras is what's making it work.
Amar'e
- He came to New York to be big time and Stoudemire has played that way. He's had 30 points in five straight games and is averaging a career-high 25.3 points per game. He's meshed well with Felton and is actually playing some of the better defense of his career. Not saying a ton, but he's working. Also, Stoudemire - and the whole team for that matter - is getting to the line more than ever, making the offense look even better than it is.
THE PACERS
Defense
- Does this team kind of feel like a surprise group from last season? Young, tough, competitive and surprisingly sound on the defensive end? Aren't the Pacers a bit like the 2009-10
Thunder
in some ways?
Danny Granger
isn't
Kevin Durant
, but this team is winning behind a strong, disciplined defensive structure. They are seventh in defensive rating and that number is climbing.
Roy Hibbert
- Hibbert completely transformed himself over the offseason. He dropped weight, added muscle and refined an already quality post game. He's probably the top candidate for Most Improved right now really. He's huge at 7'3 and has become one of the premier big men in the entire league. Hibbert is averaging 15.5 ppg and 8.6 rpg, but he's also dishing out over three assists a night. He's a difference maker and someone the Pacers are riding right now.
Josh McRoberts
- At one point, McRoberts was the punchline to a lot of jokes. Now he's a legit starting NBA power forward. His numbers aren't spectacular, but he works hard, hustles and is a good post defender. After the Pacers traded
Troy Murphy
to acquire point guard Darren Collison most felt Indiana needed another big man to be anywhere close to competitive. They probably still do, but McRoberts has been serviceable and someone that will make a fine bench piece if that interior player does come.
Shooters
- I don't know if any team in the league can get it rolling quite like the Pacers. Between
Brandon Rush
,
Mike Dunleavy
,
James Posey
and Danny Granger, these guys can pile up points in a hurry. They all shoot the 3 wonderfully as evidenced by the fact the Pacers are second in the league in made 3s a game (behind the Knicks, mind you). They are built on the defensive end, but because of the 3-point shot, the Pacer offense gets by.
We're still a long, long way off from April and the final Eastern standings. But considering what's behind these clubs, it's not hard to see them making the postseason. The Knicks are bullying bad teams and the Pacers are basically mediocre. But in a soft bottom-half of the East, these could be playoff teams. Which would be a major step in the right direction for both franchises. And something both fanbases have been waiting for a return to.