Former NBA all star Antoine Walker is set to make his D-League debut. Posted by Ben Golliver.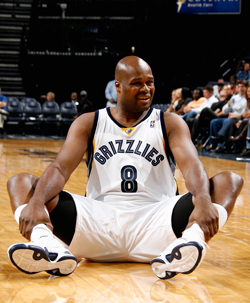 A few weeks back
, we noted that former NBA all star Antoine Walker was ready to attempt a comeback in the D-League, the NBA's minor league that's usually filled with young, up-and-coming NBA hopefuls. Walker hasn't played in the NBA since the 2007-2008 season, when he piddled around in limited minutes for the Minnesota
Timberwolves
and then headed off into the sunset, to play in Puerto Rico. On Wednesday night, Walker is set to make his D-League debut for the Idaho Stampede.
According to the Idaho Statesman
, Walker views the D-League as a path back to the big show.
"My dream is to play in the NBA. I left the game at the wrong time," said Walker, who has not played in the NBA since 2008. "I want to leave the game on my own merit. … This is the perfect stepping stone to see if I can still be competitive and play at that level."
Of course, Walker is desperate, in
a load of hurt financially
. But give him credit for subjugating his ego and embracing the long, cold bus rides that the D-League has to offer. In
this excellent Fanhouse piece
, Walker sounds focused and ego-free.
"I've worked out very hard. Starting in May, I went back with Coach (Rick) Pitino at Louisville so I've been at it pretty hard getting myself in shape. Obviously I haven't been able to play a lot of five-on-five because the guys that I was playing against are obviously playing right now, but I've still been able to work out," Walker said. "I'll probably be a little rusty in the beginning because I haven't played competitive basketball in a year and a half. It's going to be a little rough in the beginning, but hopefully it all comes back to me real fast."
"I'm here to play. I came with five or six bags, so I'm here to play," Walker said. "I don't put any sort of expectations on me. I think if I can come out and play and help the team win, I think people will see what I'm worth. I know it's going to be hard and I know it's not going to happen overnight so I don't want to put that type of pressure on myself. I want to come play basketball and let my play speak for itself."
Best wishes to Walker, who has a long -- an impossibly long -- journey to get where he wants to go. That basketball could still represent the promised land, after all these years and for a man that has been there already, speaks to its unique, intoxicating power. If Walker's only contribution in Idaho is to serve as a cautionary tale for his younger teammates, the trip will have been worth it. At least philosophically. There's still the matter of the millions of unpaid debts, of course, and banks, unfortunately, don't accept intergenerational karma as a payment method.