Golden State Warriors point guard Stephen Curry suffered another ankle injury and reportedly left the arena wearing a protective boot. Posted by Ben Golliver.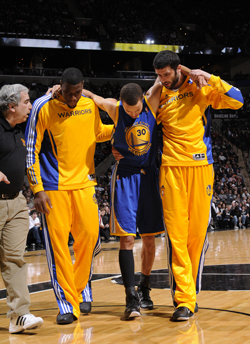 Golden State Warriors point guard Stephen Curry has enjoyed a pretty remarkable first quarter of the NBA season -- averaging 20.1 points, 3.3 rebounds, 5.6 assists and 2.2 steals -- and it's made even more remarkable by the fact he has been bothered by numerous ankle injuries.
On Wednesday, the Warriors lost to the
Spurs
in San Antonio, their 10th loss in 11 games. To make matters worse, the
San Francisco Chronicle reports
that Curry had to be carried off the floor by teammates after suffering yet another ankle injury, and he left the arena wearing a protective boot.
Stephen Curry appeared to be harmlessly dribbling on the right side of the three-point arc, when he pulled up and called timeout with 5:20 remaining in the second quarter. After being checked by head athletic trainer Tommy Abdenour on the court, Curry was basically carried to the locker room by Vladimir Radmanovic and Jeff Adrien.
"You hold your breath every time there's a limp," coach Keith Smart said. "Once you sprain it, it can always happen again at any given moment. He's been pretty resilient this season, so we've got to hope he can keep doing it."
Prior to Wednesday's game,
GoldenStateofMind.com was wondering aloud
whether Curry should take the court. Now, the Chronicle reports that Curry "could miss extended time" because of the repeated sprains, although X-rays taken on Wednesday did not show a fracture. The team is thin at the point guard position behind Curry: untested rookie
Jeremy Lin
and journeyman
Charlie Bell
were the only available options to play alongside scoring guard
Monta Ellis
. To add some depth at the position, the Warriors
plan to sign free agent point guard
Acie Law
on Thursday. Law was
waived by the Memphis
Grizzlies
earlier this week, after he couldn't find playing time behind
Mike Conley
and
Greivis Vasquez
. A long-term loss of Curry would be tough news for the Warriors, who have slipped to 8-14 on the season, after starting the year 7-4.