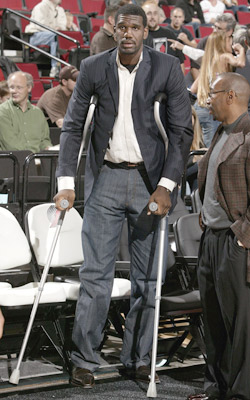 Posted by Royce Young
The Portland Trail Blazers and Miami Heat have been granted disabled player exceptions for Greg Oden and Udonis Haslem, according to ESPN.com.
Oden of course is out after having season-ending surgery on his knee and Haslem suffered an injury that will likely sideline him for the remainder of the season. The league had an independent examiner look at both players and after it was determined both were dealing with injuries likely to sideline them for the rest of the season, the exceptions were granted.
What does that mean? The Blazers and Heat now have exceptions valued at around half of each player's salary for the season. For Portland, that means about $3.38 million from Oden's $6.7 million salary. It expires Dec. 30. Miami's exception for Haslem is about $1.75 million from his $3.5 million salary. That expires Jan. 6. The expiration dates come from a 45-day clock that started ticking from when the team reasonably knows the player's injury might be season-ending.
And how does the injury exception work? League rules allow for such exceptions to be used to acquire just one player, but teams can use them to sign a free agent or to take on salary in trade before the expiration date. And just because the exceptions were granted doesn't mean they're going to be used. For instance, the Heat have 15 players on the roster with Haslem. So if they want to sign a 16th, someone will have to be waived.
To be clear: When used in trades, teams may acquire a player whose salary does not exceed the value of the exception plus $100,000. So essentially, the Blazers have an extra $3.38 million to play with and the Heat an extra $1.75 million to use in any prospective trades. That could be big for the Blazers, who are considering blowing everything up and going into rebuild mode if things don't turn around, as mentioned by Ken Berger.
If miracles happen and Oden or Haslem recover and are able to participate in the playoffs, there's no stipulation that says they can't rejoin their teams just because the exceptions were granted. In case you were wondering.