The Los Angeles Clippers announced on Friday that center Chris Kaman will miss at least three weeks with an ankle injury. Posted by Ben Golliver.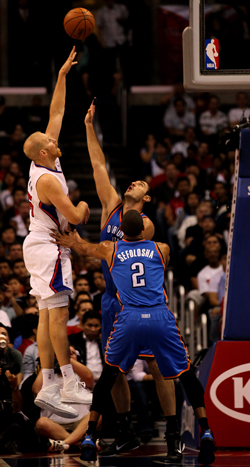 Aside from the magical play of power forward
Blake Griffin
, it's been a tough start to the season for the 2010-2011 NBA season Los Angeles Clippers. On Friday, the team announced more bad news: all star center Chris Kaman will miss at least three weeks due to an ankle injury.
Here's the release from the team
.
Los Angeles Clippers center Chris Kaman will miss a minimum of three weeks due to an aggravated bone bruise and deltoid ligament sprain of his left ankle. Kaman was examined by team physician Dr. Steven Shimoyama after undergoing an MRI on Dec. 6. He was then was re-evaluated on Dec. 9 by Dr. Richard D. Ferkel. Kaman will wear a protective boot when not participating in assigned rehabilitation.
Kaman originally suffered the injury when he
rolled his ankle in a game against the New Orleans
Hornets
in early November. His prognosis at the time was that he would miss 2-3 weeks, but obviously it's become a bit more serious than that. In Kaman's absence, head coach Vinny Del Negro has turned to center
DeAndre Jordan
, physical big man
Craig Smith
, the washed up
Brian Cook
and has used end-of-the-bencher Jarron Collins sparingly as well. Clearly, Kaman cannot return soon enough. Kaman averaged 10.5 points, 7.1 rebounds, 1.7 assists and 1.2 blocks per game in the 10 games he appeared in this season prior to the injury. He was an NBA all star last season. The Clippers are currently in last place in the Pacific Division, with a record of 5-18.