No other NBA player has been more dominant and inspiring through the first 20 games of the season than Orlando Magic center Dwight Howard. Posted by Ben Golliver.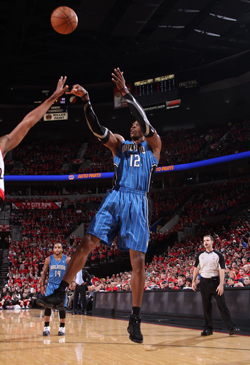 The NBA MVP is one of the most disputed titles in sports because there's a strange fixation on the candidate's "story." A Player can win an MVP because NBA writers feel he represents a specific era, because he deserves a lifetime achievement award, because his team's success deserves to be recognized on an individual level, or even because other worthy candidates have either won too many times and/or have egos that are too inflated. Statistical output and winning are mandatory, of course, but there's never a shortage of candidates with the numbers and W's to make a case. What usually winds up separating the cream from the crop is "story": what's new, what's hip, what's been overlooked for too long, or what will be remembered 20 years from now. Through 20 games, one player has already demonstrated a story more tantalizing than any other: Orlando Magic center Dwight Howard. Howard has been a fixture atop the NBA's leaderboards and has gone deep in the NBA playoffs for years now, racking up all the numbers and accolades you expect from an overall No. 1 pick. But this year he has done something much more rare from someone with his star power: He has made the leap, cashing in on the vast potential that he has displayed since he made the prep-to-pro leap, becoming a dominant all-around force unlike any the NBA has seen in years. His numbers this year are as impressive as always, a more comprehensive resume than anyone else in the NBA. Howard is averaging 21.9 points per game (14th in the NBA), 12.3 rebounds per game (3rd in the NBA), 58.5% shooting (5th in the NBA), 2.45 blocks per game (3rd in the NBA) and he's registered 15 double-doubles (4th in the NBA). His advanced stats are, arguably, even more impressive. Howard currently is No. 2 in the league in player efficiency, No. 4 in rebound rate, No. 8 in value added, No. 7 in expected wins and No. 22 in usage. If all that is gibberish to you, just know this: his comically large boxscore numbers aren't a mirage, and they represent the kind of contributions that, statistical analysts agree, go hand in hand with winning. In that vein, Howard, with next to no fanfare, has carried his Magic team to the top of the Southeast Division and the second-best record in the Eastern Conference. The Magic, at 15-7, still sit atop the far more heralded Miami
Heat
, despite a three-game losing streak this week. How has he done it? By acting as the centerpiece of the No. 3 rated defense in the league and the No. 2 rebounding team in the league. Again, the numbers are monstrous and they have led directly to wins. But Howard's statistical brilliance and Orlando's team success aren't a story, as both player and team have been commonplace for the last two or three seasons. The MVP story, then, is Howard accomplishing what we collectively hope for from our superstars. Put simply, Howard is a top flight talent who has committed to reaching his vast potential, to scraping his ceiling as an athlete and as a basketball player, and he had done it right before our eyes in the season's first 20 games. At 25, Howard has become the most imposing big man since Shaquille O'Neal in his prime and, even more impressively, he's demonstrated the widest variety of low-block moves since Hakeem Olajuwon. In Portland on Friday, Howard played the single best offensive quarter in the NBA this season, better even than
LeBron James
' third quarter homecoming explosion against the Cleveland
Cavaliers
. Against quality defenders in
Marcus Camby
,
Joel Przybilla
and
LaMarcus Aldridge
, Howard simply couldn't be stopped, and often left his man waving at air. The final damage: 18 points on 7-9 shooting plus 4-4 from the free throw line. His teammates managed to chip in four points, and he personally outscored the Blazers by four points. It wasn't just the volume, but the diversity. On Friday alone, he showed off a lefty hook, a sweeping righty hook, a turnaround, a face-up mid-range jumper, a kiss off the glass, a number of pump fakes made even prettier by excellent and improved footwork and, of course, dunks that made the entire basket support shake to the point collapse seemed imminent. Those 12 minutes were enough to turn the Rose Garden crowd into 20,000 Bill Waltons, oohing and aahing and waxing philosophical about what it means for a big man to be that fast, that good, that consistently breathtaking. He finished the night with a season-high 39 points. "It's going to be games like that when he has it rolling," Magic point guard
Jameer Nelson
said afterwards, without a trace of awe because that level of excellence has become routine. "If he gets played one on one, he is who he is, he's going to dominate that guy. That's why he's Dwight Howard. That's why he gets double-teamed so much, because no one can guard him one-on-one." This new smoothness and confidence wasn't there last year, and it's a terrifying development for the rest of the NBA given that Howard hasn't sacrificed any of his old ferocity and his physique is as massive as ever. Howard clearly committed serious time to improving his game over the summer, and it's paid rapid dividends. The result is an efficient, more in-control, increasingly unpredictable Howard, a vast improvement from the rigid, bulldozer Howard that we saw as recently as last season. Through a quarter of the season, players have been as game-changing defensively (Boston's
Rajon Rondo
), as efficient (New Orleans'
Chris Paul
) as productive offensively (Dallas's
Dirk Nowitzki
) and as athletically overpowering (James). But none of those guys, nor anyone else, has a story to match Howard's. None of those guys have drastically transformed their games, adding a major layer of greatness on top of a superstar base. In a league where potential goes unfulfilled 90% of the time, and great players so often become good once they've been rewarded financially, Howard stands as this season's most obvious exception. He's getting better, seemingly by the day, and, through 20 games, he has played like the best player in the NBA. For more quarterly NBA coverage, CBSSports.com has you covered.