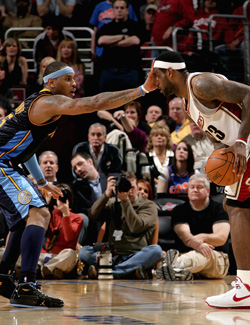 Melo following familiar path.
Posted by Matt Moore
Ken Berger of CBSSports.com reports that
Carmelo Anthony
has said he will "think about" signing the extension from the Denver
Nuggets
that has been on the table for months.
Hmm. Superstar tells team he was drafted by in the final year of his contract that he'll consider signing an extension with them that would keep him in that city, avoiding crushing the hearts of millions and avoiding forcing that team to go through a devastating rebuilding process while he jets for a bigger city with what he feels are better teammates. Where on earth could we have seen that before?
The summer of 2010 is indeed shaping up to be a wild one on the NBA free-agent scene.But there's a chance LeBron James may just skip the party.

James said Saturday that he is going to consider signing an extension with the Cavaliers this summer, well before he can become an unrestricted free agent."You play out this season of course; I will consider it," James said Saturday before the Cavs practiced at the Pepsi Center.

"The direction we are headed is everything I expected and more."
via
LeBron James tells The PD's Brian Windhorst he'll consider signing extension with Cavs this summer | cleveland.com
.
So...awkward.
It's something for Nuggets fans to note as this situation plays out. In these situations it's not what players say, it's what they dont' say. And what Melo isn't saying is that he
will
re-sign, or that he's
going
to re-sign, or even that he
plans
to re-sign. Just that he's thinking about it. Right now I'm thinking about walking outside in 15-degree temperatures. Doesn't mean I'm going to do it.
We've told you before
how this thing seems to be following a familiar pattern
. And it continues.
(HT:
Demetri Inembolidis on Twitter
)