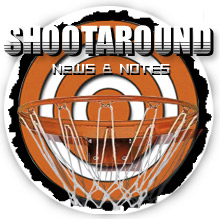 The Denver Nuggets spin with the Carmelo Anthony situation, Avery Johnson says Kobe Bryant could be better than Michael Jordan, the Miami Heat could let an asset go to waste, the Sacramento Kings owners whoop it up while the Los Angeles Clippers owner trash talks his own players and two Western Conference big men are on the mend. Posted by Ben Golliver.
Denver Nuggets GM Masai Ujiri tells the New York media that he feels the situation with Carmelo Anthony is "promising." Writes the New York Post: "Ujiri told a throng of reporters that Anthony's sentiment is different than when he came aboard. 'I think it's encouraging that he says that (he's open to re-signing)," Ujiri said. "From when I got on board until now, that's encouraging. We have had a lot communication. "I'm sure everybody thought he'd be gone at training camp," Ujiri added. "It's promising that he's still here."
Yahoo! reports that Los Angeles Clippers owner Donald Sterling has been taunting his players from his courtside seats during games, including point guard Baron Davis. What a mess. Here's Davis' quote on the matter: "There's nothing I can say. I have no comment on that. You just get to this point where it's a fight every day. It's a fight. You're fighting unnecessary battles. I'm fighting unnecessary battles."
Roundball Mining Company takes a minute to reflect on Denver Nuggets coach George Karl's 1000th victory. The site highlights a turning point. "As time passed, Karl seemed to find a healthy balance between caring enough on the court and not caring too much. His passion appeared to return, largely thanks to the trade of Allen Iverson for Chauncey Billups."
New Jersey Nets coach Avery Johnson on Michael Jordan and Kobe Bryant, as quoted by the New York Post. "[Bryant] could arguably be 1. In some polls, he'll be 2," the Nets coach said yesterday about the players he has seen since he entered the NBA in 1988. "He could be 1-A and Jordan can be 1-B or Jordan, some polls they'll be flipped. Fortunately I had a chance to play against both of them and now played and coached against Kobe. And boy, sometimes they're looking like the same player."
The Sun-Sentinel reports that there is a good chance the Miami Heat will allow their Disabled Player Exception, acquired from power forward Udonis Haslem's long-term injury, to go unused.
Here is a hilarious behind-the-scenes visit from FoxSports.com with the Kings owners during the Miami Heat's recent trip to Sacramento. The Maloofs run the gamut of emotions throughout the course of the game, eventually concluding that LeBron James is better than Kobe Bryant.
Speaking of Western Conference big men returning from injury, the Deseret News reports that Utah Jazz center Mehmet Okur could be "within a week or two."