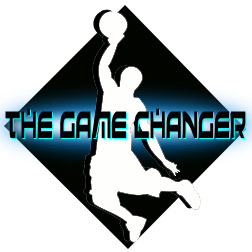 The Knicks triumph over Carmelo Anthony and the Nuggets, Tim Duncan of the San Antonio Spurs reaches a milestone, the Oklahoma City Thunder get highlights from their players and a fan during a blowout win over the Cleveland Cavaliers, and plenty more. Posted by Ben Golliver.
Each game is made up of elements which help formulate the outcome. Monday through Friday, we'll bring you the elements from the night before's games in our own specialized version of the game recaps. It's not everything that happened, but it's an insight into what lead to the results you'll see in the box scores. This is
the Game Changer.
THE BIG ONE: CAN I PLAY ON YOUR TEAM?
After Carmelo Anthony and the Denver Nuggets finished their date with the New York Knicks in Madison Square Garden, it felt like, maybe, the tables have finally turned for the home team. The Knicks narrowly prevailed in a shootout, 129-125, but they won the war of the words after the game by a landslide, when it became known that Anthony has his heart set on joining MVP candidate
Amar'e Stoudemire
in making New York his next basketball home. For the Knicks, it must feel like a quick reversal: so much winning so soon -- they have taken nine of their last 10 games -- and a new role as hot spot rather than also-ran suitor of top talent. The 16-9 start for New York, which has them just four games behind conference-leading Boston, may have Knicks fans reevaluating their "get stars at any cost" strategy. A bird in hand (especially one that wins and plays exciting basketball) can be worth more than 'Melo and CP3 in a bush next year, with a potential lockout making it difficult for teams like the Knicks to bank on anything in the long-term future. Now that it is clear that Anthony wants New York, it is negotiation time. How much of their current roster and future assets will the Knicks feel comfortable parting with? Names like
Wilson Chandler
, Danilo Galinari and
Landry Fields
are often tossed around, and while each presents reasons for Knicks fans to want to keep them around, this is a great example of how outside eyes are able to more clearly evaluate players' worth. The Knicks should feel no hesitation in trading any of those players for Anthony, and that includes Fields, the steal of the 2010 draft and one of the best values in the NBA. Hot streaks have the tendency of making the players involved look better than they are over the long haul, and 82 games of Stoudemire and Anthony makes New York a more fearsome, dynamic team, not to mention a force in the playoffs, as both players can parade to the free throw line. Falling in love with role players (Landry Fields is untouchable!) and counting eggs before they hatch (we'll just sign Carmelo this summer!) are two of the easiest ways to lose sight of the big picture when it comes to roster building. Do what it takes to secure Anthony now, and then get to work on filling in the smaller holes that a trade for him would create.
GO-GO-GADGET LINES OF THE NIGHT:
Raymond Felton
: 19 points, 17 assists, three rebounds on 7-15 shooting in 45 minutes in a New York Knicks home win over the Denver Nuggets.
Carmelo Anthony
: 31 points, 13 rebounds, three assists on 11-27 shooting in 37 minutes in a Denver Nuggets road loss to the New York Knicks.
Devin Harris
: 16 points, eight rebounds, 10 assists in 37 minutes in a New Jersey
Nets
home loss to the Los Angeles
Lakers
.
Blake Griffin
: 27 points, 16 rebounds, five assists, one steal, one block in 42 minutes in a Los Angeles
Clippers
home loss to the Orlando
Magic
.
DON'T MISS:
DOMINANT DUNCAN:
The San Antonio Spurs rolled off a methodical dismantling of the Portland
Trail Blazers
on Sunday, pulling away for an easy 95-78 home win. There wasn't much unusual about the event: the Spurs played tight, aggressive defense and they moved the ball well, supplementing their team-first attack with some points in transition. It was so thorough a victory that the Spurs were able to rest franchise big man Tim Duncan late, a nice cherry on top of San Antonio's league-leading 20th victory of the season. Duncan hit a milestone on Sunday, playing in the 1,000th regular season game. And in
quotes from MySanAntonio.com
, he sounds a bit wistful in his old age when he was made aware of the feat. "I would rather not be told that," Duncan was quoted as saying. "I've played for a long time and I'm getting really old. I wish I'd only played 10 (games) and still have 1,000 more in front of me." The rest of the league shudders at the thought of Duncan playing another 1,000 games, given that he won 707 of his first 1,000 games, an astonishing total. While his production has declined ever so slightly in recent years owing to fewer minutes -- this could be the first year of his career that Duncan doesn't average a double-double and he's averaging a career-low 28.8 minutes pr game -- the wins continue to pile up. The Spurs are shaping up to be a serious contender, health permitting. Not bad for a team lead by a really old guy.
WHIMSY:
New York Knicks superfan Spike Lee is the happiest man in the world: the Knicks are winning, Carmelo Anthony wants in and MSG is rocking like the good old days.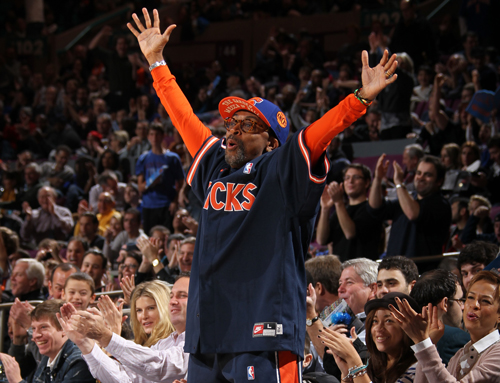 WELCOME TO MY POSTER:
Oklahoma City Thunder guard
James Harden
catches Cleveland Cavaliers forward
J.J. Hickson
about as flush as it gets. Harden throws down a vicious left-handed dunk right on Harden's head in transition, earning the and-one in the process and causing teammate
Russell Westbrook
to geek out on the sideline.
FROM WAY DOWNTOWN:
Oklahoma City Thunder fan Robert Yanders hit the shot of the weekend, nailing a halfcourt heave between the first and second quarters of OKC's Sunday win over the Cleveland Cavaliers to win $20,000. Turns out Yanders is
a bit of a ringer
, but still an amazing shot.
PARTING THOUGHT:
Former Chicago
Bulls
star Scottie Pippen is the only NBA player to win more games in his first 1,000 than Duncan. Pippen won 715, barely besting Duncan's 707.
Via MySanAntonio.com
.