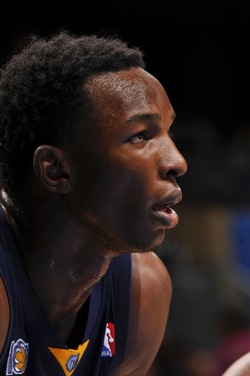 Posted by Royce Young
Remember that one time
Hasheem Thabeet
was drafted No. 2 overall? Yeah, that actually happened.
Well in his two years in the NBA, Thabeet hasn't made much of an impact. He's only appeared in just 86 games, has averaged just 12.0 minutes a game when he's played, has career averages of 1.2 points and 1.3 rebounds a game and even was assigned to the D-League last season, making him the highest pick ever sent down. While Thabeet's shown some signs of being a good interior defensive presence and rim protector, really, his NBA career has been entirely disappointing so far.
And according to David Aldridge of NBA.com,
Memphis may be ready to move on from the Thabeet experience.
Likely to no one's surprise, Aldridge says no significant offers have been made. Teams are calling, but nothing serious yet. But the Grizzlies want Thabeet moved so they can entirely move on to the future of Marc Gasol at center.
Draft night when Thabeet was taken, no one really understood why so high. Everyone had him there, but really, why? No signs of an offensive game, was soft in the post and really his only talent was blocking shots. And even there he hasn't done that well with that without fouling. Plus, the Grizzlies already had Gasol at the time but tried to convince everyone that Gasol was really a power forward.
Nobody was really sold on the twin tower combo of Thabeet and Gasol, except evidently Chris Wallace and Michael Heisley. In the end, Thabeet has been a fairly massive failure in Memphis. Some took to calling Thabeet "Thabust" before the draft and so far, the name fits.
The Grizzlies likely shouldn't have too much trouble moving Thabeet because a lot of teams out there would love the shot to try and develop a 7'3 big man like him. Roy Hibbert wasn't exactly NBA ready when he was taken a few years back but through hard work and develop, he's a force. So someone will most definitely be intrigued at the opportunity to have Thabeet.
But the Grizzlies won't be getting any kind of return on investment. Thabeet was a something pretty much destined to fail there. Memphis is making the right call though to just swallow their its medicine and try and move on.