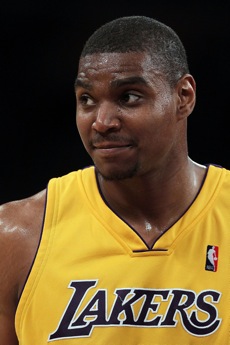 Posted by Royce Young
Finally, it looks like
Andrew Bynum
is really coming back.
The L.A. Times passes along that Bynum told reporters after practice Monday,
"I'm definitely playing tomorrow."
Bynum has started practicing the past few weeks, finally moving ahead to five-on-five actual action recently. He had arthroscopic knee surgery in the offseason and has been critcized over the way he's handled his rehab.
He scheduled the knee surgery later in the summer because he went to the 2010 World Cup in South Africa and also some vacation time in Europe. So instead of rehabbing over the summer, his July 28 surgery putting him coming back right up against the beginning of training camp.
As things go with Bynum, his recovery wasn't swift, meaning he's missed the
Lakers
' first 24 games.
Pau Gasol
has picked up the slack moving to center, but he's also averaging a career-high 39.3 minutes per game.
Phil Jackson said Bynum won't be going all-out once he returns and that he might only play around 15 minutes. Jackson had been on record saying multiple times that Bynum would start in his first game, but changed his mind after talking things over with L.A.'s training staff. Bynum will determine whether he starts or comes off the bench, Jackson said.
Bynum averaged 15 points and 8.3 rebounds in 30.4 minutes a game last season. Not to say the Lakers have struggled without him, but obviously they aren't the same team with him sidelined. He's not going to be at full strength early on, but the Lakers are planning for him to get back into shape slowly. They're not concerned with December production from Bynum. More for what he brings in April and May.