Denver Nuggets point guard Chauncey Billups is reportedly out a week with a wrist injury. Posted by Ben Golliver.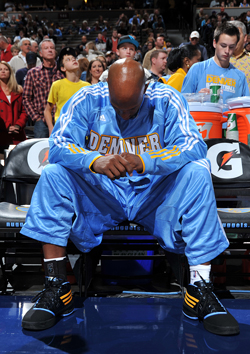 Veteran Denver Nuggets point guard Chauncey Billups has been bothered by a wrist injury for the better part of a month, after falling on it during a Nov. 20 game against the New Jersey
Nets
. The
Denver Post
reports today that Billups' pain continues and, after receiving an MRI on Monday, it was decided that he will "miss a week to rest ligament damage to his right wrist." The 14-9 Nuggets are at home this week, hosting the Orlando
Magic
on Tuesday, the San Antonio
Spurs
on Thursday and the Minnesota
Timberwolves
on Saturday. The timing of the news is tough for Denver, who has lost three of their last four games and will face two title contenders in Billups' absence. Stepping up to replace Billups will be backup point guard
Ty Lawson
. Lawson, a productive second-year guard out of North Carolina, is one of the
league's top backup point guards
when it comes to player efficiency and figures to be Denver's starting point guard of the future. When that future comes is anyone's guess, as the Nuggets are
tied up in a tangle
of
Carmelo Anthony
trade rumors. But Billups' playing time is slightly down (from 34.1 MPG last season to 32.6 MPG this year) and Lawson's is up (from 20.2 MPG last season to 23.7 MPG this season). Those two numbers will converge in Billups' absence, and when you look at their respective salaries -- Billups is on the books for $14.2 next season, Lawson will make just $1.6 million on his rookie deal -- one continues to wonder whether the point guard regime change should happen sooner rather than later.