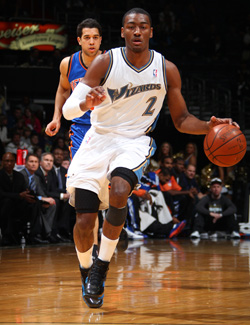 No.1 overall pick suffering from tendinitis which his coach thinks may effect him indefinitely.
Posted by Matt Moore
To file under "things that are utterly terrifying to a fanbase:"
"I don't think, with his situation, having tendinitis, that he's ever going to be pain free from that," said Saunders. "So I think what we're going to do is we're going to monitor it. That's the approach we're taking, but the reason we say day-to-day is because these things, when you go through them, all of a sudden you might wake up the next day and they might be good to go. That's why we're handling it that way."
via
Wall out, Blatche unlikely vs.
Lakers
| Washington Examiner.
That's Flip Saunders talking about
John Wall
, and his bout of tendinitis he's struggling with. And that's not awesome. At all.
Wizards
fans
are advocating shutting
Wall down for as long as it takes to get him healthy. It's of considerable concern that the No.1 overall pick has a coach who thinks he won't ever be healthy, because of tendinitis. That's not a doctor's opinion, but Flip's been around the block once or twice.
It's odd because Wall didn't show an injury history in college, these ailments have been relatively new, and are either a product of the increased physical nature of the NBA, or the extra burden placed on Wall due to the Wizards needing him to be brilliant immediately. Then again, it might just be a bad run of luck.
Either way, let's hope Saunders is wrong on this one.