Commissioner says he expects NBA teams in Europe by end of the decade.
Posted by Matt Moore
David Stern is in Memphis tonight, speaking to
Grizzlies
fans (yes there are those people, har-dee-har-har). And during that conversation, Eli Savoie picked up
this interesting comment
: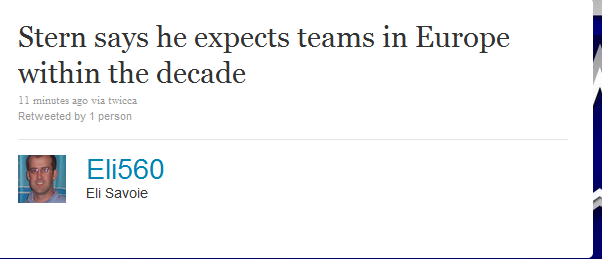 Um, wait, what?
This from the Commissioner who
is considering contraction
, who
just had to purchase
the
Hornets
in order to stabilize their ownership group. This in a league that is claiming massive losses across the board for its franchises in its current CBA battle. And he wants to move teams to Europe?
Setting aside the logistical issues of incorporating European teams into the NBA schedule and the problems with free agency, this really isn't the time to be mentioning it. and if you're going to mention it? Are you going to mention it in Memphis, which is a target for possible relocation and/or contraction in favor of said European teams? A curious situation, and that's before you look at the idea of trying to get it done in the next nine years.
Stern's bold, you have to give him that much.